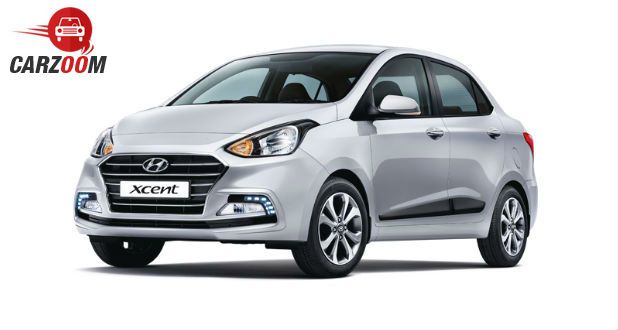 Hyundai's experiment of turning the brand's most popular hatchback Grand i10 into a sedan named Xcent has been extremely successful in the Indian car market. One of the segment's best performers with added practicality defines Xcent's strong presence and makes it a hot option. However, its prices going beyond Elite i20 hatchback makes it favorite of fleet users that shifting its focus from preferred audience i.e. private car owners. Right after three years, Xcent has now received a facelift featuring cosmetic changes and a new 1.2l diesel engine. At first look, it's looking like a wonderful experiment by the company with appealing exterior and new engine. To know more about this new Hyundai car, let's go deep.
Price:
The price range is quite competitive and puts the car as one of main rival of same segment.
Hyundai has placed this new model in the price bracket of Rs. 38-7.51 lakhsin petrol while 6.28-8.41 lakhs in diesel.

Engine details:
Both 2 liter petrolas well as 1.2 liter diesel fuel unit is small yet powerful.
The developed max output and torque of petrol variant is almost same as sibling hatchback Grand i10, the diesel fuel has been improved a bit though which now results as slightly increased torque.
Presence of 5-speed manualand 4-speed automatic transmission gearboxes ensure the well balance handling on road.
The claimed mileage of 14km/l in petrol MT, 17.36km/l in petrol ATlooks sufficient as per the size of engine n developed torque.
Contrary, company has done a great job by improving the diesel engine with better technology and making it one of the best fuel efficient models in same segment. It offers 4 km/lof claimed figures in diesel.
Performance:
The new sedan of Xcent is taking ahead the well known tradition of hatch Grand i10 in terms of on-road performance.
It offers an outstanding decent rideand stable drivability for which Grand i10 is already famous for.
Thanks to the new technology used in Xcent, its riding and handling stays stable on low as well as top speeds.
The equipped steering wheel is light and makes handling smoother like the Grand i10.
Overall, the new Xcent is nothing different than the sibling hatch Grand i10especially on the basis of on-road performance.
On the grounds of safety, ABShas been provided in new sedan but as an optional feature while dual airbags making their presence as standard.
Space & Dimension:
Dimension wise, Xcent is again another Grand i10 with slightly longer length.
Seems like company was not in the mood to do any experiment in its measurement and style which is li'l bit disappointed.
The Xcent's length of 3995mmis more than Grand i10 while 1660mm of width and 1520mm of height are as same as its sibling.
The boot space of 407 liters is something to be relieved in terms of its dimensions and space.
Though legroom and headroom of Xcent at front as well as rear seat are sufficient and gives a feel of comfortafter sitting in it.
Interior:
Hyundai is known for making its cars with the best of quality, materials and good list of features. Xcent is not any different.
The equipments like fully automated temperature control(FATC), 7-inch touchscreen AVN system with Android Auto, apple car play, mirror link and voice recognition, fully automatic temperature control (FATC), cooled glove box, leather wrapped steering, rear armrest with cup holder and much more.
Basically Hyundai offers a huge line-up of interior and comfort features in this sedan and makes it richer than its some rivals.
Exterior:
The big changes come on the front in the form of new cascading front grille, aggressive front bumper, sweptback headlights with LED DRLs.
The front looks similar to new Elantra instead of Grand i10 upon which the sedan is based.
Comparatively the new sedan now has some pleasing personality.
Final Verdict:
Needless to say, customers who wanted a sedan model were eagerly waiting for this launch. The reason is definitely the success of grand i10 on which this car is based but there were lot more chances to make this new Xcent better. Its price, performance etc are all looking good and price makes it a definite car you should shortlist.