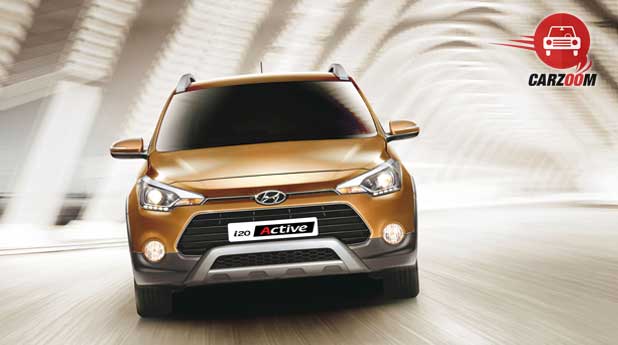 Customer and Market preferences have changed from time to time and right now SUVs have seen the highest number of demand and growth. Hyundai has joined the group of crossover with the launch of i20 active which will take on Fiat Avventura, Volkswagen Cross Polo and Toyota Etios Cross. Like Volkswagen and Toyota, Hyundai doesn't have any product to rival Duster and EcoSport so they decided to launch a crossover to fill the bridge and provide hatchback spectators an alternative. However, Hyundai will launch ix25 SUV sometime in the near future. Is i20 active a version of Elite i20 who has taken lot of steroids to get muscular or there are some real changes in it? Let's find out.

High:
I20 active is based on Elite i20 which is a looker by itself so Hyundai already knew that the outcome won't be bad but despite of being on same platform Hyundai has managed to make i20 active look distinctive with exterior enhancements. I20 active is probably better looking crossover that Etios Cross and Cross Polo.
If there is something that puts Hyundai above other car makers is the oodles of features in their cars and i20 active is no different. It is loaded with 2 DIN eight speakers audio system, cool glove box, reversing camera, projector headlamps with DRL and many more.
Apart from heaps of features, spacious cabin is complimented by excellent fit and finish and best in class quality of materials. In Hyundai i20 active it's hard to find any flaw or rough patch in this department.
The i20 active is available with two engine option- petrol and diesel, 1.4L DDis offers superb ride, drivability, outright performance and tuned suspension provides good low end driving and neutral handling dynamics.
Hyundai i20 active carries 190mm of ground clearance which is 20mm more than the hatchback counterpart and with such clear height i20 active is very rough road friendly and taller than Elite i20.
Another thing which goes in favor of i20 active is Hyundai's fuss free after sales service and wide network.
Low:
Hyundai i20 active is the most expensive car in the segment and its top variant is nearly a lakh more than Etios cross while the on road price difference is also over lakh as compared to Elite i20 variants.
Diesel engine of i20 active is refined and peppy; on the contrary, petrol engine offers average highway performance for a premium car and feels underpowered.
 Hyundai claims that they has taken various reforms to improve driving dynamic and ride and handling of i20 active but still it's not a driver's car Fiat Avventura and Cross Polo are more fun to drive.
Sometimes when you try to do things differently either it works out well or fails miserably and same is the case with i20 active's aqua blue interior theme. Some might find it cheap and others too chunky.
Although Hyundai has everything tried to make i20 active different from i20 hatchback but still it doesn't able to deliver the Crossover look which Avventura mange to do in a right manner. Avventura is purely and solely justifies the Crossover label as compared to other cars of the segment.