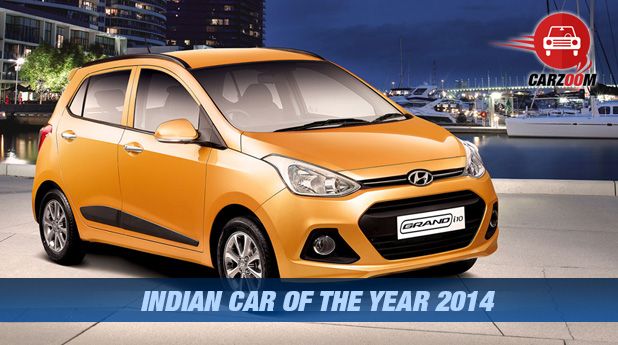 Well, mostly time we come up with the news of new or upcoming launches, reviews and all. Let's talk about the awards today. It's a right of every customer to know which car is being awarded as best car of the year by those positive responses which we, the Indian customers give to our loved one car.
What is ICOTY award?
ICOTY (Indian Car of the Year) is one of the most craved awards in the Indian automobile industry and every car maker desires to own this. ICOTY is provided every year to that car which has been successful in winning the hearts of Indian customers. The award is given on the grounds of price, fuel efficiency, modifications, performance, road handling and safety etc.
The ICOTY 2014 Winner is "Hyundai Grand i10"
Well, the good news is that the all famous Hyundai's Grand i10 which was launched recently just few months ago has been rewarded as ICOTY 2014. The reason was its unbelievable popularity; it seemed like a flow of sales has come since the launch of this trendy hatchback in September, the Hyundai has sold out over 35,000 units of Grand i10 till now which is really a wonderful success for a new launched car.
And needless to say that this award will make the car even more popular and which will be resulted as more sale of Hyundai's this model.
Grand i10- Price & Engine
The grand i10 hatchback's cost is 4.2 lakhs for its petrol base model and 5.2 lakhs for its diesel base model. Its mechanical powers are 1.2 L Kappa VTVT petrol and 1.1 L CRDi diesel engines. It is Hyundai's smallest car and has total eight variants.
Rivals of ICOTY 2014 Winner
Now the question is who their main rivals in this competition were. Well, the answer is quite surprising, coz this trendy and classy hatchback had the most attractive SUV Ford EcoSport and very popular Honda Amaze as its competitors also including BMW 1 series, Mercedes-Benz GL350, Chevrolet Enjoy, Skoda Octavia, Mahindra Verito Vibe and Nissan Terrano.
ICOTY 2014 Juries
The ICOTY award presented by JK Tyre and its juries of this year includes prominent editors from Auto India, Car India, Top Gear, Motoring, Hindu Business Line, Auto Build, AutoX, Overdrive and EVO. This group of juries chose Hyundai's Grand i10, Ford's EcoSport and Honda's Amaze as the top three finalists and finally Grand i10 took the cake away.
These both cars (top finalists other than Grand i10) don't need any introduction. Every people know how these cars are being applauded by the customers in their own segment. But when the award-juries compare these three cars in overall terms regardless their main segments, Hyundai's Grand i10 beats every other car and has crowned as ICOTY 2014.
Hyundai happily received the award
B. S. Seo, Managing Director and CEO, Hyundai Motor India Ltd, on receiving the award said, "We are honored to win the most prestigious automotive award – The Indian Car of the Year 2014. The Grand is a world-class product developed for the Indian market and winning the ICOTY 2014 marks its phenomenal success. The ICOTY 2014 symbolizes Hyundai's commitment to Indian customers by offering high standards of quality, durability and reliability. Grand has consolidated Hyundai's position as a trendsetter and leader in the premium compact car segment. We are humbled by the overwhelming response and appreciation Grand has received by the customers, media and jurors. We thank our customers for making Hyundai Grand a grand success."
Car Zoom's take:
At last, we also congratulate the diva car for its success. We hope that Hyundai would carry this accomplishment in upcoming years by offering such type of amazed cars to its customers. It seems important to mention here that this car maker has also announced recently that the ICOTY 2014 winner Grand i10 which is a hatchback till now, is also going to get its longer sister in the form of 'Grand sedan i10'. This new Grand i10 would launch on Jan 4th, 2014; everyone is quite excited…No?