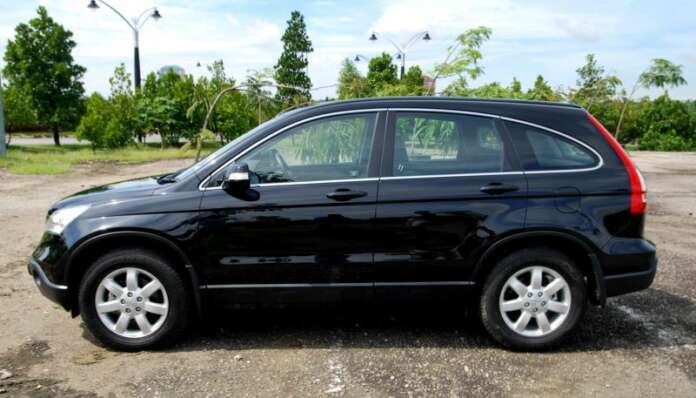 The Japanese carmaker Honda has launched the Honda CRV an entry level crossover SUV car, well if you are planning to buy a compact SUV this year, don't forget to keep this one in your test drive cars list. Among the pros as observed by an expert are the heavy technology used to design it but at the same time being light on pocket, lots of space for various articles, luggage etc, subtle and user friendly interior. Among the cons include the base 4 speaker audio systems and rearward visibility. After being the best selling SUV in America, the redesign of the car is done cautiously to retain the 'the perfect' compact SUV tag. The car retains its old seductive look with little work done on the edges, incorporating the lamps both front and rear into the sides of the body.
It is the 4-gen of the Honda's crossover SUV, started in 1997 and redesigned in 2002, 2007 and 2012. Available in 3 flavours: – LX trim, EX trim and EX-L, with EX-L being at the top. It offers K series 2.4l i-VTEC engine giving 27/36 mpg in city and highway respectively. In the entertainment and information section some exclusive features like internet radio and SMS text messaging have been added apart from the Accord features like Bluetooth, i-MID screen and rear view camera.
According to another expert who drove on the Udaipur- Chittaurgarh highway finds that 6 speed manual gearbox and smooth throws makes you feel at home and according to him the rear looks like Volvo Xc60. There is a huge improvement in terms of power and torque in comparison to the previous version. He appreciates the judicial space management in the car and good pickup. It's stable on high speeds but the engine can produce high irritating notes beyond 4000rpm however it's effortless on curves after sharing his experience of drive on the NH76 highway. He compares prices of Toyata Fortuner with CR-V and found CR-v to be cheaper by 1.4 lacs, though the CR-V has petrol engine and Fortuner a diesel one the running cost of Fortuner would be less by Rs.4500 per month in next yr with rising diesel prices in mind.
With competition from rivals like Mazda CX-5, Hyundai Santa Fe and Ford Escape with some offering better features like more powerful engines than CR-V, CR-V's smooth as silk drive still keeps it at top of the list which is easily seen from the long term resale values. CR-V comes with expert's favourite feature of intelligent multi information display (i-MID) and foldable rear seats. The vehicle is very roomy with tilt steering option and Hill start assist feature.
Overall the experts have given a positive response for the '13 CR-V starting from its looks, intelligent interiors to its performance. Though little pricey starting at about 20 lacs, it's worth taking a test drive if you are a SUV enthusiast. With new CR-V "live many lives in 1 life"; really?? Find out and give your statement.