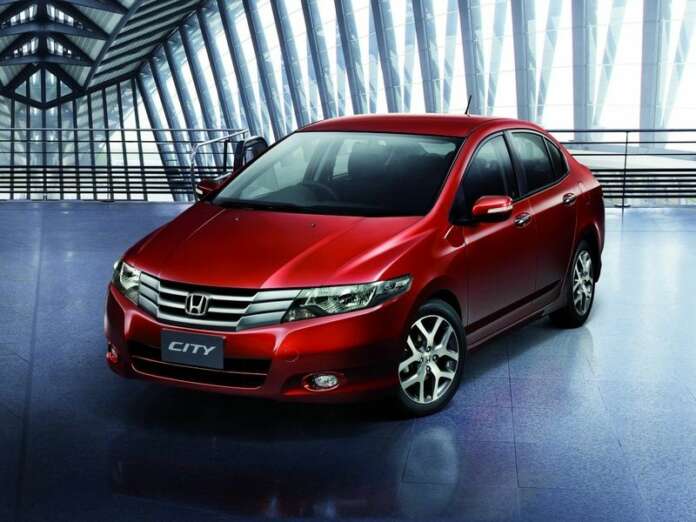 Honda City has ruled the Indian roads for many years now for its legendary style and quality. It comes in 6 elegant colors:- carnelian red pearl, sparking brown metallic, alabaster silver metallic and taffeta white urban titanium metallic and bold beige metallic. The new Honda City is available in 2 variants Petrol and CNG to contribute towards green and clean environment.
Specifications:-
Dimensions of the car are 4440mm x 1695mm x 1485 mm with wheelbase of 2550 mm. 6 types of City are available:- corporate, E, S, V, V(AVN), V(sunroof). The fuel tank has capacity of 42 litres, greater than Amaze and Brio and equal to Dzire. The engine is 1.5l  SOHC 4 cylinder 16 valve i-VTEC causes the fuel efficiency to be 16.8 kmpl except for the AT version which has 15.6 kmpl. Well, the figures for the Max Power and Max Torque are 118/6600 [email protected] and [email protected] [email protected] The Steering is power driven with a steering system called 'Rack and Pinion'. The tyres are tubeless and wheels are steel for lower and alloy for higher versions. The brakes are same Disc and Drum for front and rear respectively like most of Honda cars.
Features:-
Starting with the exterior part, it has a sporty front  crome grill and  bumper with halogen headlights, the rear bumper has reflectors which are useful in adding safety during night driving. The glasses of windows are green shaded to act sun protective and add to beauty. Front fog lamps and 10 spoke (highest no. of spokes so far compared to other Honda cars) alloy wheels are present only in the higher versions of the car. Apart from these, Honda City is proud to present first in class electric Sunroof which is currently available only in V (sunroof) version. The ORVMs are electrically adjustable and have turn indicators on them.
Now coming to the interiors, the first thing to notice is the upholstery which is fabric and leather for the highest versions, in beige color except for corporate version which has black fabric upholstery, whatever will be the color it will surely soak you in its ambience. For temperature control there is air conditioner with heater capability too. The steering is studded with Cruise Control buttons that allows you to relax on long drives and for some intelligent-lazy people there is Paddle shift feature that has finger controlled 5 speed transmissions to make your drive effortless. The much talked about 'Eco lamp' feature encourages driving economically saving fuel and thus money. While the V (AVN) City has some exclusive Interactive Intelligence features like:-  first in class AVN( audio visual navigation) to reach new destinations without hassles, it's possible to see the rear camera view on this AVN,  touch screen audio system, DVD/CD player, USB, Bluetooth/AUX/MP3/FM/AM  and ipod cable whereas other versions have advanced integrated audio system but lacks AVN system like the Brio and Amaze. Tilt steering and headlight height adjustment is available in all versions but driver seat height adjustment is possible only in the higher versions.
Keeping the passenger's convenience in mind the windows and door locks are power controlled. The rear seat has armrest in centre with cup holder; there are also other pockets here and there to carry your stuff. Unlike Brio, City has advantage of distance –to- empty parameter. When it comes Safety City comes with an unique concept of G-CON or G-force control technology, implying this concept the car structure is designed to absorb shock during accidents and provides a protective shell around passengers, thus reducing impact of a crash; the crumple zones at the front and back ensures safety of pedestrians and passengers. Regular features like dual SRS airbags, ABS with EBD, driver seat belt reminder and child locking system are also present.
With all these comforts and safety, City promises you joyful rides with everlasting memories.
Overall, the car is great with exceptional features of CNG compatible, Sunroof, AVN system for intelligent navigation, G-CON safety feature apart from the stunning looks; City will remain a masterpiece of the Japanese car maker Honda.