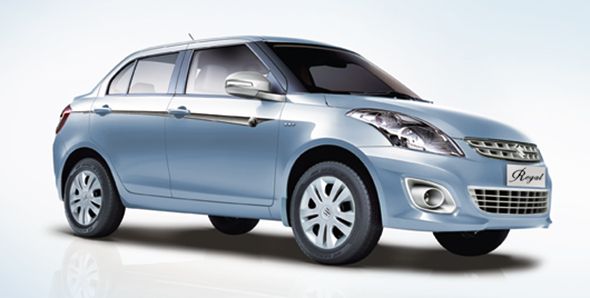 To celebrate the 5th Anniversary of Dzire in India, Maruti Suzuki has launched a limited edition and an all-new variant of Dzire – The Regal. As per the market reports, however, Dzire Regal is an all-new variant of Dzire (Maruti's top-selling car), which has been single-mindedly packed and made extra alluring to counter Honda's new wheels "the Amaze" in the entry-level. In India, Dzire Regal is only available in Petrol version and priced @ Rs5.95 lakhs, and it commemorates the 5th anniversary of Dezire in India.
The new special edition "Regal" is available on the VXI trim & its engine mechanics remains identical. Adorned with new elite features, this special edition machine ensures that your heart skips a beat.
The exteriors of Maruti's new kid "Regal" boasts of a new supple blue-hue, svelte look, fog-lamps, body graphics with a mammoth "R", wing mirrors, body-colored electronically adjustable outside rear view mirror (ORVM) in conjunction with a silver colored front grill, body colored mud guards and rear parking sensor.
Not to forget, the interiors of the car too get some additional luxury comfort features including leather upholstery, beige faux leather cushions, beige floor mats, integrated dual-DIN audio system with auto volume control and tweeters, leather covered steering wheels, wood inserts on the armrests, a car-perfume and stainless-steel door sills with Dzire inscribed on them. All the fresh additions in Regal are meant to further boost the Maruti's appeal in the Indian sedan car market.
New launch of the special edition "Dzire Regal" is speculated to be a move of Maruti's major strategy to offset Honda's new sedan Amaze. However, Honda Motor has miles to cover as Maruti Suzuki's wide-network, credibility and reliable after-sale services have already built a brand loyalty in the Indian automobile industry.