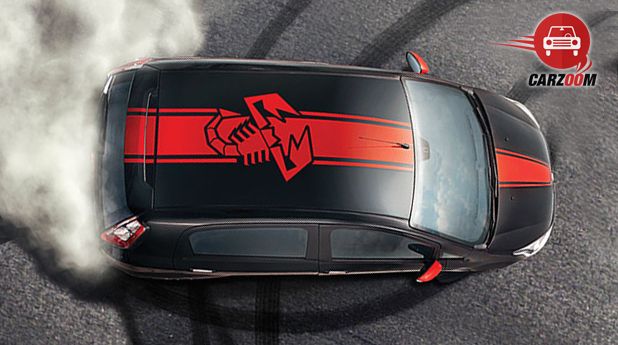 The Indian buyers have been very pessimistic when it comes to powerful petrol engines as they prefer great mileage over high performance. In India there are certain diesel models that deliver decent performance with good fuel efficiency but it isn't we call a true hot hatch. Till now, Volkswagen Polo GT is considered as the only performance hatch in India and there haven't been many hot hatchbacks in the country. Fiat has now launched its most powerful car in India as Abarth Punto which is the powerful version of the standard Punto Evo and it is taking forward the legacy of iconic Fiat Palio in India. Abarth, founded in 1949 is a premier brand known for making sporty cars, which later on taken over by Fiat.
With the launch of 595 Competizione, Abarth made its way to the Indian shores and now Abarth powered Punto and Avventura providing keen enthusiasts a good option. We've been driving it for a while now to tell you how it performs?

Price:
Fiat has successfully managed to keep it under Rs. 10 lakh thanks to the local manufacturing of Abarth Punto in India. But its chief competitor VW Polo GT TSI is available for Rs. 8.58 lakh which is approximately 1.4 lakh lesser than Punto Abarth.
Engine and Performance:
Fiat make engines that never fail to impress and one of them is 1.4l T-jet engine that powers Linea and now Punto but with significant changes. The new hot hatch now has a red Scorpion-badged engine, which has a power output of [email protected] and 212Nm of maximum torque between 2000-4000rpm.
The acceleration response is quite impressive as it ticks a ton from a standstill in just 8.8 seconds before hitting the top speed of 190km/hr and it can cover 1 km in 30.4 seconds. Until 2000rpm, there is a certain amount of turbo lag but as you press the pedal hard you get to witness the real power of the engine. The mid range 2000-400 rpm is quite remarkable with enough grunt and peppy response. NVH levels are excellent but there is some wind noise creeping in at high speed which is negligible.
The standard Punto Evo car is known for its great high speed stability and excellent driving dynamics and its Abarth version is also testimony to the fact. The hydraulic steering might feel heavy at low speeds but overall the steering feedback is very-very rich during cornering and you feel confident at triple digits.
Fiat has offered Abarth Punto with all four disc brakes which inspire confidence in the driver to make full throttle with positive pedal feedback. The suspension has been stiffened up which helped it manage to soak bumps with ease resulted in better controlled body roll.
Space:
In terms of space it hasn't changed a bit so expect large and comfortable front seats with good lateral support and weird sitting position. Front seat offers good legroom and headroom. At rear, you get tight knee room especially for the occupant at centre as the car get rear AC vent in the middle of front row seats making it difficult to seat for long journeys.
Exterior:
The Punto Evo is already one of the best looking hatches in the country with its no non sense styling and these racy elements now has further made it more fascinating. First thing which grabs you attention is the oodles of red element used all around the car while some of you might find it too loud. The color is available with only two paint schemes- Black and white, red racy stripes on the sides, bonnet just stands out with dark black shade.
The big scorpion sting on the roof top is probably the best part of the design. Red lipstick kind of treatment around the fog lamps on white color looks out of the place while same with chrome on hip hop black adds a spice to the overall style. Another show stealer on the red hot hatch is the alloy wheel design (the sportier I have ever seen) makes it a stunner. White front and side have sportier credential; the rear is rather simple yet elegant with LED tail lamps and two LED circulars with red accents.
Interior:
As you enter into the cabin you get some Déjà vu feeling as it doesn't get a major makeover from the standard model except new Abarth badging on the leather wrapped steering wheel replacing the Fiat, aluminum pedals with scorpion badging. The all black theme is taken from Punto Evo 90Hp sport variant which makes driver enthusiast car more attractive.
The revamped instrument cluster with red and yellow tinge gives the centre more dramatic and sporty than the standard model. Abarth Punto gets integrated music system with bluetooth audio and phone connectivity, aux and USB connection. Sadly it misses out on touchscreen infotainment system with navigation which is present on other cars in the lineup. Other features on the hatch include steering mounted audio controls, all four power windows with express down feature and automatic climate control. The quality of materials is average similar to Punto Evo.
Safety:
Being available in single variant, it comes basic safely elements like Dual front airbags, ABS with EBD, 3-pointer ELR seat belts with pretensioners and load limiters and conventional FPS (fire prevention system). The Abarth is offered with disc brakes on all four wheels. Furthermore, the standard car was praised for its brawny structural strength and strong build and this car is no different.
Verdict:
When you are buying a performance oriented car think from heart rather than mind and same is the case with Abarth Punto. With the on road price of around Rs. 11 lakh which is tad steep but then the smile and pleasure you get while driving is certainly priceless. Abarth Punto is a dream come true for Fiat diehard fans as they always wanted more power car and it's all about how happy you feel when press the pedal. When it comes to features yes it could have been more but being an enthusiast it's all about performance first everything comes secondary. Overall, this car is blend of enthusiasm, innovation, sheer brilliance and a serious fast machine.