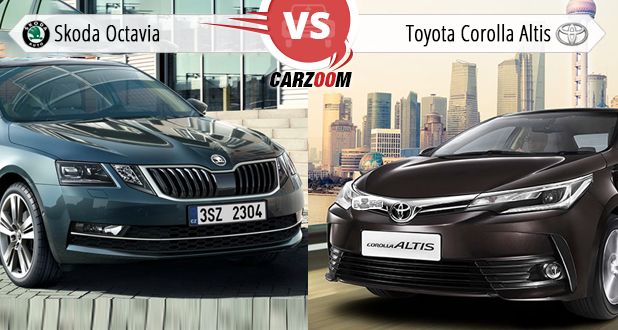 It is not hidden from anyone that D-segment is facing a tough time in Indian market but still there is group of target audiences who still want to have luxury sedans with power pack performances. For those selected customers, car manufacturers are regularly trying to update their models time-after-time.
To compare the two successfully running models of the same segment really becomes tough especially when both seem almost similar at the first sight. Then what are the points that make them different from each other and select a leader among the two or more? Well, to find the answer of this question, we are here for the comparison of two D-segment models of Indian mobile industry. While on one side is newly re-launched Toyota's Corolla Altis, on the other side is luxury refreshed model Skoda Octavia. Let's get a detailed detail.
Price:
With this renovation, Toyota has smartly priced its New Corolla Altis with the lesser price tags than its rivals in market while on the other side; Skoda is as expensive as always.
The petrol variant of new Corolla Altis costs between Rs. 14.89-18.68 lakhs while Octavia's costs at 15.49-20.9 lakhs.
Contrary, talking about diesel trims, here again Skoda will empty your pockets by having high price tags of 16.9-22.9 lakhs of its diesel model while new Altis diesel is comparatively cheaper and comes with brackets of 16.55-18.27 lakhs.
Engine & Performance:
Under the hood, Skoda again seems heavier but obviously in a good way here. When Toyota offers just two engine options in its luxury sedan, Skoda provides three. Talking about petrol trims, Octavia is powered by two units which are 1.4 litres and 1.8 litres while New Altis gets only a 1.8-litre petrol mill. Further, despite having similar sized engines, Octavia offers much better power and torque of 177.5bhp n 250Nm over the 138bhp, 173Nm of new Corolla Altis.
Not only this, Skoda's sedan also beats the Toyota's car on the grounds of diesel mill by having much bigger unit of 2.0 liter over the smaller 1.4 liter of Altis. This powerful diesel engine develops impressive power of around 141bhp and torque of 320Nm which is far-far better than Toyota's 87.2bhp, 205Nm.
Not only on paper values but Octavia does perform better on-road as well. The 1.8 l petrol model of Octavia just amazes when driving and offers a top-notch handling and decent riding. Though braking seems a bit hard sometimes and mileage could be better too especially of its petrol trims. Toyota's New Corolla Altis on the other side has its own speciality in its road-performance which includes the petrol version's good acceleration.
Still, Toyota's this luxury sedan sits back behind the Skoda's car on the grounds of diesel fuel. The diesel model of Corolla Altis is bit heavy and one will have to do extra efforts to extract its power while competitor Octavia has comparatively much powerful diesel mill of 2.0 litre producing top-notch output. Thus, Toyota could improve the diesel mill with this renovation. Further, Octavia also takes the cake away from New Altis here by giving auto transmission in its both fuel models while Toyota provides auto gearbox only in its petrol.
However, fuel efficiency is better of Corolla Altis on paper but on the terms of engine and performance, we surely give the crown to Skoda Octavia.
Also See : Visit Our Toyota Corolla Altis FAQ section containing all small-yet-useful info altogether for your convenience
Space & Dimension:
Skoda's sedan is a long, sleek model which clearly is a segment leader in this section. Its 4659mm of length, 1814mm of width and 1476mm of height make it longer, wider and taller than its rival New Corolla Altis which carries 4620mm of length, 1775mm of width and 1475mm of height.
Though, Toyota also has tried its best by improving the dimension and wheelbase in its new updated car which is making the car down-to-earth yet classier than before. While Octavia already carries sufficient legroom & headroom at the front as well as its rear, Corolla Altis after this renovation also gets increased legroom at rear seats. The increased claimed wheelbase of 2700mm in Toyota's is slightly better than Skoda's car which carries 2688mm.
On the terms of storage capacity, Octavia again beats new Corolla Altis by having a wonderful trunk size boot space of whopping 590 litres which also can be extended up to 1580mm by folding down the rear seats while New Altis disappoints us a bit by offering luggage capacity of just 470 litres.
Interior:
Newly arrived Corolla Altis is designed with refreshed and many new features which is making it completely a 2014 model. Skoda Octavia also doesn't sit behind than Corolla Altis in this manner and offered top-notch premium features in it. On one hand, we have Corolla Altis's refined features like touch screen music system along with Bluetooth connectivity, cruise control, power steering having audio controls on it, navigation system, rear parking camera, 8-way power driver seat, push start/stop system etc while on the other hand, its luxury Octavia which offers you slightly more comfortable features including an 8.0 inch touchscreen infotainment system with apple car play and Android auto, new instrument cluster, 10 ambient lighting, dual zone climatronic control, rear A.C vents, electrically adjustable, foldable and heated outside mirrors, front & rear seat centre armrest as standard, 8 speakers over Altis's 4/6 speakers and a never ending list continues here.
It's clear that Skoda makes its models for giving instant top-notch comfort to its customers while Toyota makes for long journeys comfort.
Exterior:
Coming at car's exterior profile and look which is one of the most demanding factors for any buyer and here both the trendy looking sedans have tried their best to fulfill the customer's requirement but Toyota Corolla Altis still wins. The reason is its refreshment, though Octavia also has been refined few months back but that modification which Toyota provides in its New Altis is really remarkable.
Altis's trapezoidal grille over the Octavia's new single frame grille makes it look classier than ever. But available panoramic electric sunroof with bounce back system in Skoda's luxury sedan giving a complementing look to its outside glance, there is no sunroof has been designed in New Corolla Altis yet.
Talking about material quality then everyone is well aware with Toyota's solid build quality image which continues here with this sedan as well. The Corolla Altis has designed very smartly and also with premium material quality. However, the finish work on features which we get in Skoda's models seems somewhere missing in others.
Safety:
Let's jump to their safety aspects now and again we see a bucket full of safety devices in Skoda Octavia which somehow seems in Corolla Altis as well but still not at the matching level of Skoda.
To give the maximized protection to its passengers, Octavia and New Altis both get airbags but the Skoda's car again marginally leading here by providing eight airbags while the new Corolla Altis now gets seven airbags in it.
To prevent the vehicle from any authorised entry, both the sedans are well equipped with one of the most required safety features engine immobiliser. Further, to enhance the braking mechanism by preventing the vehicle from skidding on any indefinite road conditions, Anti-lock braking system (ABS), electronic brake-force distribution (EBD), brake assist are marking their very warm presence in both the sedans.
Other than this, Skoda Octavia gets some more features here which are making the car one of the safest ones in its segment. These more features include Anti slip regulation (ASR), motor speed regulation (MSR) and electronic differential lock (EDL) which in a combined form helps to prevent loss of traction of driven road wheels. Electronic stability control (ESC) (improves the safety of car's stability by detecting & reducing the loss of traction) is also available in Octavia but missing in New Corolla Altis.
Verdict:
Toyota Corolla Altis Pros:
Affordable price
Toyota's wonderful after sale services
Low maintenance cost post buying
Solid built quality
Attractive exterior profile
Toyota Corolla Altis Cons:
Less powerful engine
Auto transmission is missing from diesel trim
Comparatively lacks in interior & safety features
Skoda Octavia Pros:
Powerful engines with impressive power n torque
Advanced technology, presence of auto gearbox in both petrol & diesel
More spacious comparatively
A never-ending features list in terms of comfort & safety
Skoda Octavia Cons:
Comparatively Expensive
Skoda's not-so-much-reliable image among Indian customers
Lacks of service centers
High maintenance cost post buying