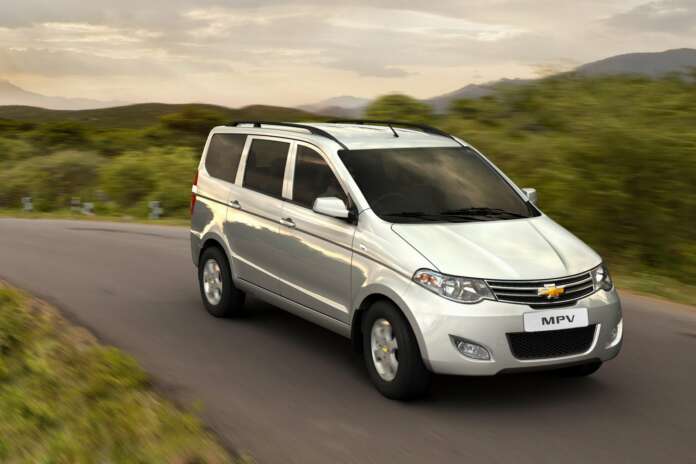 As the demand of cars in the Indian market is increasing, the categories and sizes of cars are also changing according the market needs. And, hence the birth of this proper MPV( Multi Purpose Vehicle) vision in India is also a result of the customer's need and to match the level of their satisfactions.
So, to this category of the cars, we have an all new and refreshed idea of a look-good-performer vehicle from GM subsidiary, the Chevrolet Enjoy MPV.
DESIGN-
This car, is a new talk of the town for sure with its fresh and fusing personality, clear, sharp and big headlamps and that iconic Chevrolet bowtie badge embossed on the front signature grille.
The overall feel of the car is humongous and not only it feels that way, it actually satisfies the category it forms a part of. As we move towards the back of the car, A bold shoulder line that runs along the door handles and a waist line between the two wheels are the only prominent elements on the plain side profile and it starts feeling bland towards the end, but its design exhilaration ends on a very sweet note as the car looks too tall on length and width and those vertical tail lamps add a bit flair, which could have been a little boring otherwise with those huge tailgate which certainly needs a lot of space to open up.
INTERIORS AND FEATURES-
Take a look, around the car's cabin and you just can't stop that smile on your face from broadening up. This car is a whole new meaning of joy inside, with a lot of usability and ofcourse, space, can accommodate 2+2+3 or 2+3+3( according to your requirement). The cabin of the car gives you great feel and comfort for those long rides.
The Enjoy has large glass-area which makes the interior feel airy and a brings about all round visibility to the driver. The quality of plastic used is average but tough and the instrumentation is fare and thorough. The audio system is old-school, supports AUX and USB as standard and the car has a steering which is not electronic but hydraulic and gives a good feedback.
The upholstery comes in dual tone color schemes and the top of the line variant is wrapped in good leather for that feel of opulence with thigh support for that extra comfort. The car comes with various other features like the ABS with EBD(opt), dual air-con and third row captain seats as standard.
ENGINE AND PERFORMANCE-
It is said that performance speaks for itself, we don't know how justified this statement is but it sticks too accurate for this car with a heart of 1.3 litre multijet with fixed geometric Turbo found in many other cars but this time it is longitudinally mounted producing a total of 76 bhp power and 187 Nm of torque on diesel which accelerates the Enjoy from 0-100 in 19.75 secs.
The car also comes in a petrol driven engine in-case the price hike of the fuel doesn't bother you much, a powerful 1.4 litre churning out a great 103 bhp of power boost and 131 Nm of torque, which accelerates it 6 sec faster than its diesel sibling. This MPV is RWD with those new LCV tyres for great traction around bends and while braking.
Best thing about both the engines is the grunt and Punch, which is tuned for punchy low and mid-range grunt, relieving stress with the help of a 5-speed manual transmission. With all those capabilities working together, this car outperforms many of its rivals in ride and handling department.
MILEAGE METER-
On petrol one can expect a mileage of 12.1 kpl
And on diesel it can run a good 15 kpl.
PRICES AND COLOR OPTIONS-
The Enjoy with 4+4( diesel+petrol) exciting variants , is available at an enjoyable price tag ranging from 6.75-7.99 lakh for the top variant in diesel and you pay 5.54-7 lakh for a petrol version of the same.
Available in 6 vibrant colors to choose from *velvet Red
Caviar Black
Linen Beige
Switchblade Silver
Sandrift Grey
Summit White.