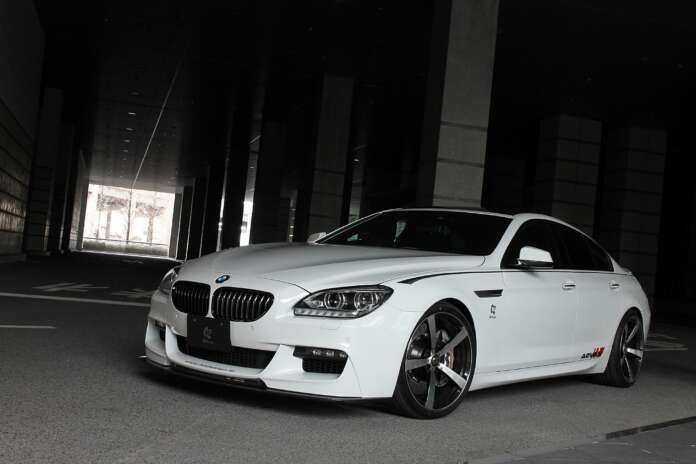 6-Series from BMW has had a very evolutionary story in India since the time it was first showcased till last year, with its new and totally revamped version, staged at the Geneva Auto show as a concept and then in the India Auto Expo as a final design, which was launched instantly that time. This car, started-off here as a two-door convertible, then went on to acquire the image of a hard top and now, it has four doors and four proper seats, a proper Gran Coupe. Come let's have a look at it.
DESIGN-
With what it had been in past, the new coupe looks ravishing and extravagant without even being too tachy with those sensual lines and a long, flowing appearance. Its design now, is full of lines here and there, as says designer Mr Nader Faghihzadeh,"the movement of water inspires this car."
This car, again a totally different looker is a fine blend of the older 6 series and new 7 series, setting it apart at its whole new level of charm with horizontal character lines defining the rear spoiler and running through into the C-pillar. Another line runs along the top if the rear bumper back into the rear wheel well area. Touché!
And adding a final key to the design theme, extra two doors have been accommodated by extending the wheelbase by 113 mm over the earlier 2-door version.
INTERIORS AND FEATURES-
This car here is really a flow without a flaw and so, the Fit-and-finish on the dashboard and the seats are impeccable. An as a regular case now with most BeeMs, you can choose the color and type of leather you want, which looks classy, wrapped all over the dash, running all the way down till the gear area in one stretch and stitched to perfection in white.
Also, a very long list of optional gizmos to tick off like the integrated iDrive, infotainment system with AUX, USB, Bluetooth and stuff,  this car here provides some of the coolest deals for a couple of lakh extra. To begin with, the people at BMW will be glad to fit you a head-up display that projects current speed and route instructions on to the windscreen so you don't have to move your neck a few degrees to look into the info screen, for a lakh extra. For 3 lakh more, you get a night-vision cam with pedestrian detection and digging deep into your pockets further, you can even demand those special Active Seats that hold tight and cool down your back with a ventilator of cool air, for a little less than 8 lakh. A little amount for the class it is payed for! And not just for class, you pay enough for 8 integrated Active air bags, crash active headrest and side impact protection system for added class of safety.
Talking about the space, then this car won't dissappoint you ever, but it is for 4 of you only and strictly! As the centre tunnel at the rear makes it almost impossible for the third passenger to sit or even fit. That apart, the rear seat is quite roomy and comfy with a decent and spacious boot. You get individual temp control for all four passengers and seat heating on all four seating, just in case! Now that's what we call some real stuffing!!
ENGINE AND PERFORMANCE-
The whole 6-series is comprised of 4 variants with two engine options and one of which is a convertible, with a 4.4 litre V8 petrol tucked under its hood producing skin rattling 407 bhp of power and 600 Nm of torque and the same engine charges up another 2-door coupe. But here we are talking about the latest in family, the Gran Coupe, which sports a growling 3.0 litre V6 twin-turbo diesel, AWD,  engine churning out 313 bhp and 630 Nm of smooth and ultra fine grunts.
The shifts of this car are brisk with 8-speed automatic transmission at job.
With two turbos, the car knows no-thing like a lag and the power curve remains linear throughout with an ability to tick Speedo needle to 100 from standstill in just 5.5 secs and a top speed of 250 kmph. Whooaaaa, floored! Literally!
Apart from that, the car with BMW's Integral Active Steering, with an electric motor to modify the wheel angle while acceleration or deceleration, steers well and like all tourers, its ride is on softer side. And an optional Dynamic Drive Active Suspension System is there to take handling precision to new level with total control and comfort.
Mileage Metre-
The diesel engine being our latest pick will go 6.5 km in city
And 9.8 km on highway for a litre of diesel.
PRICES AND COLORS-
With all features fitted, the 640d Gran Coupe will cost over 1.4 crore on-road, Mumbai and 1.13 crore, if you stick to the basic one.
Other variants will cost as follows-
650i convertible- 95 lakh
650i coupe- 1.40 crore, all stuffed again
640d coupe- 1.13 crore.
Apart from optional color schemes and optional sporty matte scheme, you choose from basic BMW color scheme of 9 active colors.
Deep Sea Blue
Alpine White
Mineral White
Orion Silver
Havana
Vermilion Red
Titanium Silver
Space Grey
Black Sapphire