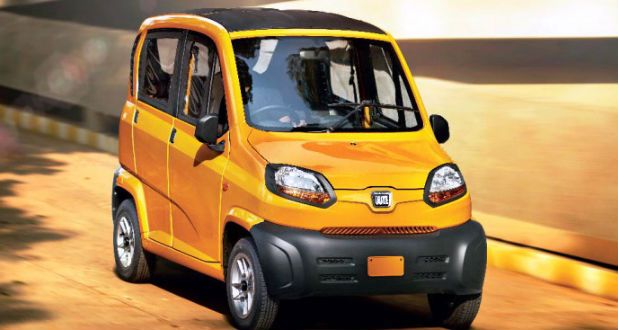 India's one of the leading Bike makers Bajaj is planning to make its entry into four wheeler segment. Bajaj is reportedly working on its Small car called Qute which is likely to be launched in India later this year. The Qute has already been launched in various international markets though various barriers over safety have stopped Bajaj to launch it in India. The quadricycle is likely to come at a price tag of Rs. 1.2-1.3 lakh (ex-showroom).
Recent rumors suggest that it could be launched at just Rs. 60,000 which is even cheaper than some 125cc bikes. Messages also being circulated suggest that online bookings of the car have begun, but there's no formal announcement from Bajaj. However all this news is just a mere rumor, its original price will be over a 1 lakh.
Just to remind you, the car was revealed at 2008 Delhi Auto expo as a concept which was expected to go on sale in 2011 at Rs. 1.2 lakh. However it didn't happen, another rumor surfaced regarding its fuel efficiency which was touted to be around 35 Kmpl. It was also supposed to get an AMT (Automated manual transmission).
The Bajaj Qute Quadricycle will be powered by a 217cc 1-cylinder liquid cooled fuel injected engine that makes 13bhp [email protected] and 19.6Nm of [email protected] The engine is linked to a 5-speed manual gearbox and claims to deliver 36 Kmpl of mileage. It has a top speed of 70 Kmpl and meets Euro 3 emission standard.
It has a seating capacity of four people and measures 2752mm in length, 1312mm in width, 1652mm in height and has a wheelbase of 1925mm. Now the question arises, who can buy Qute? Recently, Government stated that Quadricycles will only be used for commercial purposes only no private use.