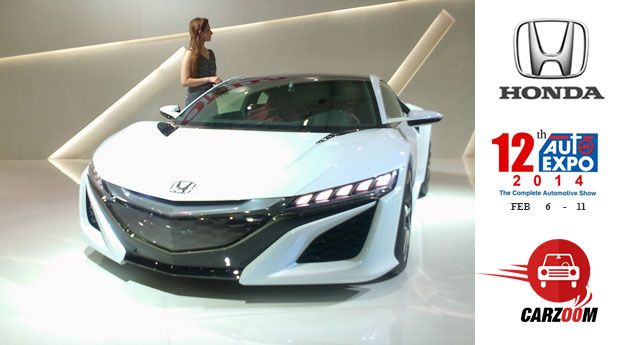 Honda undoubtedly made a blast in this 12th Auto Expo by revealing its five models including the gorgeous NSX concept. By unveiling it officially, company has confirmed its launch in India somehow. Though, this will take time coz it is expected to be launched here sometime in 2015.
Price:
Well, its price range is still a secret kept by company. As it's a concept car so it would be possibly launch with limited editions and also with quite a high price tags.
Engine details:
Being a concept car, reportedly it is powered by a direct-injected V6 engine paired with an electric motor while two more electric motors will be paired-up with its front wheels. This car makes a hybrid set-up with Super Handling-All-Wheel-Drive (SH-AWD) consisting of electric motor geared up with dual-clutch transmission gearbox. Though, its developed output is not revealed yet but expected to have a better fuel economy and impressive power output.
Space & Dimension:
This cool and royal and dashing NSX concept is 4830mm in length, 1895mm in width and 1160mm in height which also carries the wheelbase of 2575mm. Well, company has not officially disclosed the details of this concept car so it can be termed as tentative info till then.
Interior & Exterior:
Honda NSX concept looks like a car of future. Its slim and soothing glimpse, availability of high-fi luxury equipments make it much and much cooler and spectacular than others. The exact details of its equipments can only be availed by its launch, though.
Car Zoom's take:
Honda has really done a great job by designing such a beautiful model which have tendency to attract any people towards it. After its launch in India, it will not only increase the level of Honda here but also one more stunning model with expectedly powerful hood will be the part of Indian car market. Let's keep our fingers crossed till then.