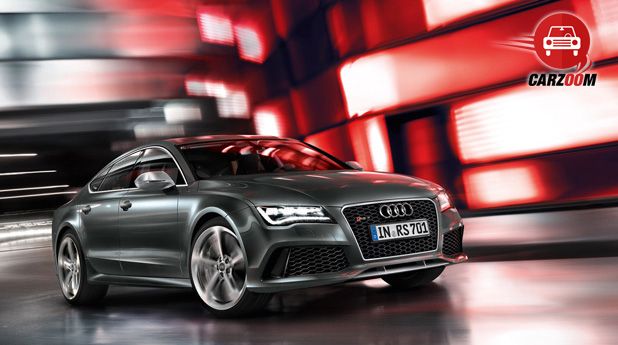 The German Trio as we know keep their work in close competition to each other. Not just that, but each car they launch, they launch in competition with their rival's already existing product. But still, if there is any car amongst the three Giants that technically has no true rival or competition in the market right now, than this is it, the Sports Saloon version of the distinctively famous Audi A7, Audi RS7.
And with such uniqueness, distinctiveness and class of its own, it was actually predicted that the RS7 had to be famous and that's what it has done by attracting more and more customers as well as appreciators to gain more popularity and success. That's why we are here, to bring to you in our User Reviews section, what people who own or drive it feel about this car. If it was in our accord, then we could have managed to talk to the very first owner of the Audi RS7 in India, the Bollywood actor Mr. Salman Khan. But as we are unable to do that, and as he is not so poised about the automobiles itself, we managed instead, to gather reports and responses about this distinctively insane machine from its other, Delhi and NCR based customers.
Entering the User Reviews section, if one thing we were sure about was, only two types of people would buy this car, either a showoff one or a very enthusiast one. And we are glad that we got the enthusiasts ones to talk about the RS7.
Likes

1. Sporty genes and performance
The very best thing about this car is ultra refreshing and sportily aggressive genes filled with performance and mad power figures. Amongst most of the people we talked, this car remains popular for its fresh, cutting edge and cunning underlining figures, which very gracefully gets infused in a stretched Saloon class plush body for a surprising feel.
2. Dynamic driving pleasures
Most of the people who test drove the car, were pretty happy with the way and ease this superiorly insane and power packed machine gets maneuvered. The flat-bottom-sports-multifunction steering wheel and paddle shifter were really appraised by people.
3. Insane sound and interiors and color options
Amongst other better features of this car, people were really left numb with the growling engine notes of the car with sports exhaust. The ones who were already had bought the car calls it the "Noisy Knight" for its combination of loud roars and all black interiors filled with all necessary, entertainment and leisure features as people were noticed talking about. Apart from that, an option of more than 11 metallic as well Matte colors to choose from was a piece of big appreciation amongst the customers and aspired buyers for more infused Sporty essence.
4. Poised and killing instincts
Overall, as a combination of mad performance, sporty interior and exterior styling in total fanciness, this car had really got the instincts to flatter anyone who could buy it or even the ones who could just appreciate it.
Dislikes

1. Normal handling issues
One of the things about this car which would need a bit of up shift as told to us by various experts and even the users is, the car feels a bit under-Steered and rolled under normal circumstances which otherwise seems regular, but being a sports oriented car, these things should be rectified completely. Otherwise with Sports mode and DRC, the car performs fairly better on road and around corners.
2. Rear space and comfort
We would be lying if we would say this is car is not comfortable with those sporty and functional seats. But then again, listening to many a people in addition to what our experts reported. We feel the car is actually a bit tight for rear passengers with a bit squeezed head and shoulder room due to its Coupe design. Otherwise, the car has ample comfort and leisure space.
3. Hard on pocket
Another very important factor, even for the people who could own it was this vehicle is insane not only in terms of performance but the overall running cost, including the price seems way too high. With insanity and power in its genes, the car drinks a lot of fuel delivering a very low efficiency, even with a feature like Cylinders on Demand.
Final Verdict

Taking into consideration the user responses, we believe this car is really appreciated amongst people making its presence felt big time. It will really gather the love and appreciation it deserves for its Cunning Audi engineering despite of some of the areas where it gets a little low-keyed, which we believe Audi will surely take care of in future.