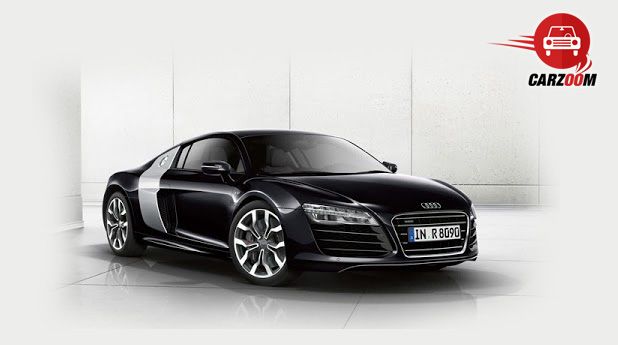 Designing a car with the combination of sportiness as well as luxuriant is never so easy but Audi has done it very creatively in its one of the model Audi R8. Its spectacular glimpse with never ending brightness and smoothness just drives crazy. After seeing such a beautiful model, every person with excitement can say just one word and that is Wow!!!!!
The German car maker has designed it with much sharpness and gives us two models of this royal R8. First one is R8 Coupe while the other is R8 Spyder. Let's see what these stunning models got inside them.
Price:
The dashing R8 offers two variants in its Coupe model and one is in Spyder. The price tag of Coupe's two variants are 1.6 Crore and 1.9 Crore, respectively while the Spyder's one and only variant costs highest at 2.1 Crore coz of its more attractive look, design and luxury.
Engine:
The R8 luxury model offers total of three variants; all in petrol. The R8 V8 Coupe is powered by the 4163cc, 4.2 liter petrol engine developing the impressive output of 424bhp and 430Nm while the Coupe's second variant R8 V10 Coupe gets 5204cc, 5.2 liter petrol engine by churning out the max power of 518bhp and peak torque of 530Nm.
On the contrary, the R8 V10 Spyder shares the same engine unit of R8 V10 Coupe which is 5204cc, 5.2 liter petrol and producing the same output too. It's all variants are mated with 7-speed S tronic automatic transmission gearbox which assists this royal model to perform well on road.
On road, it offers the mileage figures which vary from variant to variant and also as per the road conditions. These are as follows:
R8 V8 Coupe:
5.18 km/l (city)
11.9 km/l (highways)
8.06 km/l (combined)
R8 V10 Coupe:
4.8 km/l (city)
11.2 km/l (highways)
7.6 km/l (combined)
R8 V10 Spyder:
4.8 km/l (city)
10.8 km/l (highways)
7.5 km/l (combined)
Road handling & Performance:
Being a sport car, this R8 luxury gives a balanced handling on road and flexible as well as comfort drivability. Its light weight design is engineered to get better efficiency, the mileage figures could be improved even more, though. But on road, when you drive this luxury car, u will get a feeling of calmness, smoothness and royalty. Its available suspension system, braking system assures its hurdle-free handling. It could achieve 0-100 km/h in just 4.3 seconds (in R8 V8 Coupe), 3.6 seconds (in R8 V10 Coupe) and 3.8 seconds (in R8 V10 Spyder) with the top speed of 300 km/h, 314km/h and 311 km/h, respectively.
Space & Dimension:
It's a two seater luxury car having different dimensions with slightly ups and downs in every variant. These three variants carry the overall dimension of 4431mm x 1904mm x 1252mm, 4434mm x 1929mm x 1252mm and 4435mm x 1904mm x 1244mm along with equal wheelbase of 2650mm and ground clearance of 160mm in all three. But the luggage space also differs here, while the 5.2 l petrol model of Coupe and Spyder both has 500 liters of boot space, the 4.2 l petrol Coupe has 600 liters.
Exterior:
In R8, it's a model with masculine figure and gives a feel of a real sporty car by looking. Slim body, new designed LED headlights as well as LED rear lights, cool and sharp side-blades, electrically extendable rear spoiler, electrically adjustable exterior mirrors are those premium features which are present in R8's every model. Unlike the other Audi's model, the four rings (symbol of Audi) are not present on the grill but on its flat bonnet which is making this model to look more thin and down to ground and obviously looking classy n cool.
But still, both Coupe and Spyder models look different with each other. The reason is the presence of open/closed hood option in R8 Spyder which is not designed in the R8 Coupe concept. In case you want to close the hood of R8 Spyder, the fabric hood drawn out to the rear in the shape of two slim fins. Within 19 seconds, it can be opened again by just touching a button available in this stylish car. After being opened, the hood folds in flat shaped storage chamber which is present above the engine chamber and being invisible from outside.
Audi offers this luxury model in various stunning colors which include Samoa Orange, Brilliant Red, Teak Brown, Estoril Blue and Sepang Blue etc. Other than this, the R8 Spyder's hood has three different color options too which are Black, Red and Brown.
Interior & Safety features:
At inside the cabin, no doubt it gives a feel of freshness and luxury. It gets door sill trims with aluminum inlays & R8 logo on the door sills, interior mirror with automatic anti-glare action, driver information system, sports seats, hill-start assist, parking aid plus with reversing camera, cruise control, deluxe automatic air conditioning, 4-way lumbar support, electrically adjustable seats, concert radio, Bluetooth interface and many more.
For entertainment, the Audi sound system is marking its well presence in V8 Coupe while the Bang & Olufsen sound system is present in V10 Coupe as well as Spyder.
As per its safety is concerned, it justifies the badge of Audi and has the entire requisite features which is needed. This includes Anti-theft wheel bolts, full size airbags, front side airbags, anti-theft alarm with tow away protection, first aid kit with warning triangle, seat belt reminder, Anti-lock brake system (ABS), Electronic Stabilization Control (ESC) etc.
Verdict:
It could be said that this car is one of the most luxuriant sport cars in India. Its hood shut/open option makes it one of the stylish models. Though it has high price range which is much much more for the common people but it's a fact that this luxury model is designed for the celebrities, business men etc.
Pros:
One of the most stylish-cum-sporty cars in India
Long list of luxury features
Cons:
Fuel economy could be better but being a sporty car, this could be ignored.