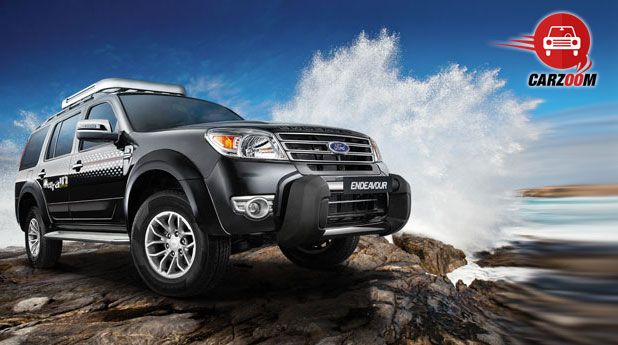 Unlike Ford's current superstar, The EcoSport, 2014 Ford Endeavour was launched with much less drama this year in a company claimed-refreshed and refurbished avatar. As our in-detail specs and expert's reviews suggest, the car is really new and revised with the same old-school SUV charm of a hunk amongst its counterparts. With punchier engine feel, new transmission system, better FORD standard performance and rich feel new cabin fits and space this car here feels at ease and is surely here to stay. But coming into the market, on road or off it and out of papers in the real life situations, how it appeals to our dear users and speculators is still to be considered and that's what we are here for with our User Review section to present the car in your own words, based on your own suggestions and experiences collectively.

To begin with, this car is almost successful in tempting the upper market SUV lover segment of the country to some extent with a flashy and chrome filled Eco inspired front grille but not so flashy fiesta-Eco combined looks to kill. As a major group of buyers we got acquainted with, suggests that the new headlamps, chrome garnishing and body decals look way cooler than the previous versions and what still remains the same yet appealing to many is the 5060mm long stretch and huge 210mm ground clearance of this vehicle which surely makes it a class apart on road and also adds a bit to its overall handling and stability. While the side profile of the car could have been touché, which otherwise looks dull.
Coming to the power plant of this mammoth sized vehicle, people are surely impressed with what FORD incorporates into this vehicle with an option of two trims of 2.5 and 3.0 ltr TDCi VGT/DOHC 16 valve engines. The engine felt quick, powerful, controlled yet economical at ends to many despite the turbo lag which most of the users felt was on a higher end with not so happy feelings about it. The ones who test drove it could not resist but compare it with other chart topping vehicles of the segment and their performance figures such as Toyota Fortuner, Mitsubishi Pajero etc., which we will surely cover in detail in our versus section. But to be honest, at a price similar to those it doesn't provide much of charmer here to many.
Getting inside, this car is not a small, but a huge package of goodies. The new titanium-metal finish on instrument panel and two-tone beige interior and upholstery, the touchscreen SATNAV system and all the little- little touches and controls for convenience here and there are surely to impress the fun-loving-creature-comforted people with enough space to upmarket the excitement even further. The mob looks happy getting inside with all that opulent leather and user friendly gizmos it comes loaded with.
Getting inside and getting there safely and soundly is a different matter though, and getting behind the wheels and being responsible for the whole feel and drill is a whole different concept of performance and drivability. Most of the buyers of this segment are pure enthusiasts and taking Intel from such zealots makes us review our cars even better, which suggests that most of the drivers don't really connect with the overall feel of the car. The engine needs a lot of pushing to juice the max out of it and so as the steering, which feels tight for long runs and cruises but way too tight for zippy and lag free city drags and runs. The new transmission system with 5-speed auto box is a bliss though, even the 5-speed manual feels impressive.The off-road ability of this car is somehow decent and could be used for short farm house runs and soft off-roading purposes only.
The car comes loaded with safety features such as ABS with EBD, driver n passenger front airbags (in all variants) while side airbags (only in 4×4) etc. but these are certain features you don't really feel like using if the car's ability is already as good, but here with this elephant sized roller you feel a constant urge for all these safety measures. Handling is decent and up to the mark with but lacks trust when compared to the segment it belongs to and the size and weight it adorns with, body roll is bearable though. That's why many people are still in thoughts and lost in the rumors about the much awaited FORD RANGER inspired version of this SUV, due next year.
Bottom-line-
Combination of presence, power, comfort and safety, this new SUV is surely a fun-filled and loaded package, but if you crave for pure driving pleasures, both on and off the road then look elsewhere to other options in the market. The 2014 Ford Endeavour will be stubborn, and will remain a decent soft-roader all the way.