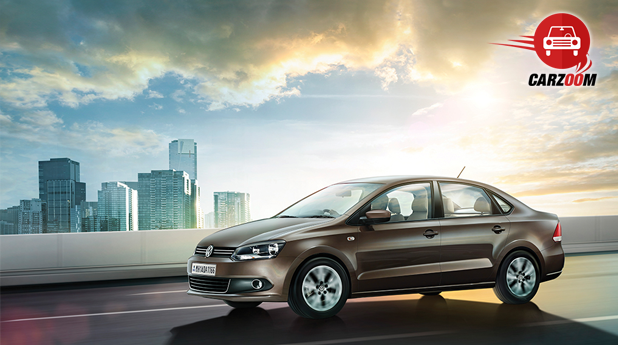 Volkswagen is enjoying the success of its recent launched new Polo which was launched in August. Volkswagen has now here with another version of Vento Sedan. Vento has been an underrated car which didn't enjoyed much success as expected due to better alternatives available in the form of Honda City and Hyundai Verna.  As the festive season is just round the corner Volkswagen launched Vento with some changes. So let's see what kind of impact these changes are going to have on Vento's overall performance and sales.

Price:
Indian consumers first look at price of the thing and then they make their mind to buy that product or not, so price is the main phenomena for Indian automobile market and Volkswagen does justice with it.
Volkswagen petrol trim and Diesel trim price starts at 7.44 & 8.57 lakhs which is lower than the initial prices of its competitors like Honda city and Hyundai Verna.
Whereas the price of top variant of New Vento ends at 10.94 lakhs where as prices of City and Verna ends in mid bracket of 11 lakhs, so overall price of Vento rightly placed among the competitors.
Engine & Performance:
Volkswagen Vento is mechanically same as previous GEN without any change in engines.
New Vento arrives in two engine options Petrol and Diesel with Petrol is available in two options 1.6L MPI engine and 1.2L TSI engine developing same amount of 153nm power but different torque of 153nm and 175nm respectively.
1.6L engine is mated to 5 speed manual transmission while 1.2L TSI engine comes with 7 speed automatic transmission.
1.5L TDI Diesel engine is available in one option only which produces same amount of power as petrol engine but higher amount of torque of 250nm and equipped with 7 speed automatic transmission.
New Vento hits the sweet spot with its performance; it is firm in city speed, blistering on highways and comfortable through potholes.
Ride quality is mature and you will be satisfied of what you get from New Vento and the body roll does full justice with the performance.
Vento is far away from the uncomfortable and rigid factor thanks to its brilliant suspension.
The automatic transmission works very well in New Vento as it easily shifts; So Verna now gets a new competitor in automatic transmission department.
On overall analysis new Vento is very inspiring and can give fierce competition to Segment ruler Honda City with its riding ability and performance. 
Space & Dimensions:
New Vento is certainly not segment widest or longest car but certainly not the shortest either; it stands in between the rival cars.
New Vento diesel variant has 165mm of ground clearance which is fine for diesel car and better than Linea and City, and Petrol engine gets 168mm ground clearance which is 3mm better than the ongoing model and at par with the competitors.
New Vento has ample space department with the boot capacity of 480 liters it just gets better, huge glove box department, bottle space near the doors just compliment it.
Seats are soft and height adjustable (only driver) and it is supported by front and rear armrests.
Vento has seating capacity for 5 persons, front space in not a problem at all, but rear gets floor hump by at least 5 inches so it may hamper the rear seating comfortably.
Rear gets powerful A/C vents and option to adjust the front seat in case occupant wants more legroom space.
Interiors:
Interiors get two tone black beige scheme complimenting the whole cabin especially the dashboard.
New Vento is equipped with three spoke steering wheel with multi utility buttons which gives it more sporty feel.
Centre console gets chrome surrounded music system and number of function buttons like A/C control etc.
Height adjustable seats are made up of premium fabric upholstery which provides you good thigh and lateral supports for long drives.
Rear seat passengers has a entertainment system now with two LCD screens at the back of front seats and rear A/C vents to keep you cool while enjoying entertainment on twin screens. 
Exteriors:
Volkswagen Vento doesn't change much from the current Vento with some minor tweaks but moreover it is same like current one.
New Vento has two tone bezel dual beam headlamps; Verna has better front design than new Vento. New Vento has same design front grille like the ongoing model.
Side of the new Vento gets body painted door handles and ORVM's with new 15" Spokane alloy wheels.
Rear of the Vento is depicted with Volkswagen full name and engine name, rear side also gets tail lights with powerful third braking lights.
Safety:
New Vento now has dual air bags as standard which was optional in earlier version of Vento.
New Vento has features like three pointer seat belts, ABS, hill hold control, ESP and electric engine immobilizer.
New Vento is facilitated with anti pinch window technology which stops windows from closing if there is any object or hindrance in between closing of windows.
Rear-front end got defoggers and features like cruise control, speed sensing auto door lock etc.
Safety features are just par or we can say less to what other competitor cars are offering like Hyundai Verna, Honda City and Skoda Rapid.
 Verdict:
New Vento will take on those cars which are ruling the segment with their own special perspectives. Design wise City and Verna is much better; Performance wise new Vento is just brilliant a certain threat to segment ruler Honda City. Automatic transmission is a big plus for Vento as it will make competition tuff for the only automatic car available in the segment Verna and Vento is competitively priced as well. Overall, it gets thumbs up from our side except the design and Volkswagen has to look for its services which they can improve itself.