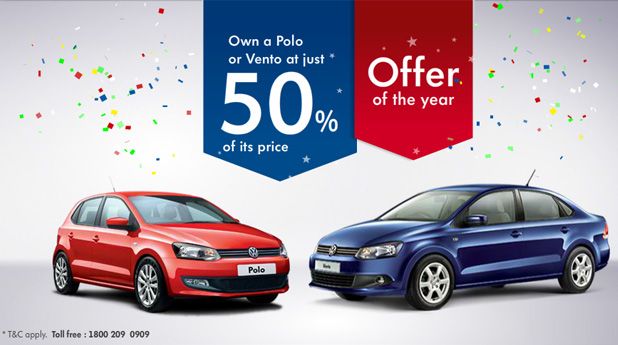 The German Automobile company VW brings a very impressive as well as exciting offer, valid just for this December. This eye-catching scheme is presenting you a chance to own a VW Polo or Vento.
If you want to buy a VW Polo or VW Vento but couldn't, just because of lack of money then undoubtedly this breathtaking offer can give a broad smile on your face and fulfill your dream to own a car.
VW is providing you a chance to grab your favorite car by paying just 50% of its price. Isn't it amazing?? Not only this, VW also giving you a proper time period to pay the rest of amount. You can pay the remaining 50% amount after a year as one payment OR in easy EMIs over 3 years. Oh My God..it's just a thrilling proposal and I doubt if anyone could find it's uninteresting.
Needless to say that VW Polo and VW Vento are one of best cars of not only VW but of their segments too. You can't ignore the success of both the cars in India; also you can't ignore their charming glimpse as well as refining features and stimulating power.
Though, it's obvious that company wants to increase its sale of both the models and also want to clear the existing stocks coz every new buyer would prefer a new designing model in coming New Year. Still, this offer is not just for company's benefit but it is also giving an auspicious chance to the customers to own a car.
Undoubtedly it's an offer of the year and no one would want to let it go. So just visit your nearest VW showroom and make your deal before the offer ends, as it's just for the December.
For more details regarding this amazing offer, please go through below link:
http://www.volkswagen.co.in/en/2013-forms/polo-vento-50-offer-dec.html
Or you can also dial VW's toll free no. – 1800 209 0909