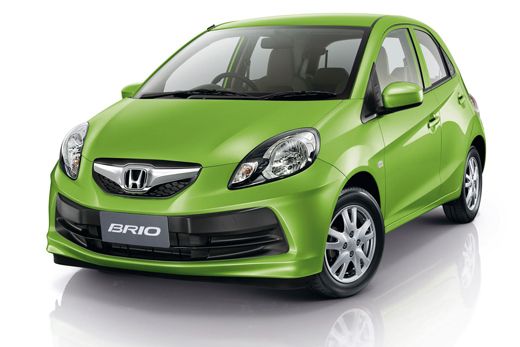 According to a user from Bangalore, SMT Brio is a good option than its competitor Swift in terms of price and power it provides. He got Brio for 5.10 lac compared to 5.9 lac of swift desire. The reverse parking sensor and smooth steering is attractive feature for him and he's satisfied with the 175 l boot space, though Swift provides 200L space, the luxury Brio provides keeps his eyes off Swift. Post buying he observed the mileage to be 14.2kmpl with A/C in city and around 17kmpl on a long drive.
Another user of the SMT version is indifferent with the exterior of the car, but is impressed with the full glass at the hatchback as it is very unique compared to other cars. Again like everybody, he's glad about the power and mileage Brio offers, he drove 118 km in 6 litres. The ride quality is good, though he complains of not so smooth maneuvering at turns and lesser boot space at rear.

A  user, Mr. Yadav ,rated  a black Honda Brio VMT with full 5 stars on the parameters for value of money, performance, looks and space. He's tested the car for 10 days and has come up with a review stating that the front is 'macho and manly'. He liked the elegant style of the exterior specially the large headlights and the crome grill and the performance/acceleration of the car. He claims that the interiors are better than his previous Honda City car. Along with that he also indicates the areas of improvement being the automatic climate control system, distance-to-empty meter, floor mats, one touch window on the driver's side among others.
According to an editorial test drive, it is rated high on performance, mileage and looks. Also, the Honda dealership experience is counted as a pros. Among the cons include the rear styling, rear space and no diesel engine then, though now diesel engine Brio are available now. The speedometer console has a ECO function display which tells if the car is in ECO mode or not depending upon the speed, gear number and driver's inputs.
Aniket, a user, shares his experience stating the rear windows were a main attraction to him along with the luxury of a sedan class car in a hatchback. For him the pick up is good, but if the gear is high then moving from low to high speeds is a bit of struggle. The gear shifting is tender and might require frequent gear changes and also advices not to overtake vehicles if the car is in 5th gear as the car struggles to rush in its highest gear.