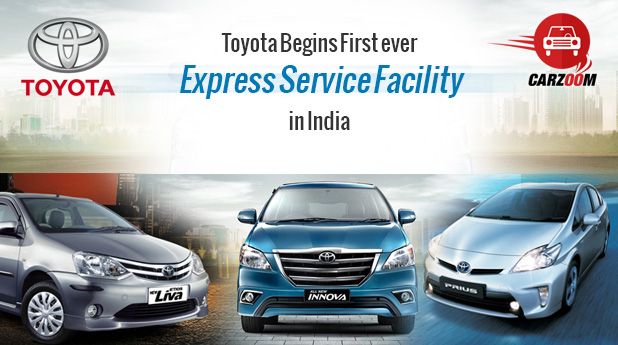 Toyota Kirloskar Motor Pvt. Ltd. has begun its Toyota Express Service (TES) for the first time ever at Galaxy Toyota, Rama Road, New Delhi during an inauguration. In this facility outlet, company would feature well known Express Maintenance 60 (EM60) concept which has already been greeted successfully by the Indian customers.
EM60 assures you to provide quality service in just 60 minutes. As per the Toyota's new service, some points of features and benefits have been listed below:
Features-
Complete Periodic Maintenance Service and select additional jobs within 60 minutes.
Observe Work-in Progress
Specially Trained Professionals
Toyota Genuine Parts
Easy Appointment Scheduling
Benefits-
While you wait conveniences
Include Body Wash and Vacuum Cleaning
Available for all Toyota vehicles
Comfortable Express Lounge Facilities
"Given the importance of time, it is our aim to provide the best quality services to our customers in the shortest time span through Toyota's Express Services. We feel honored by the loyalty of our customers and are committed to exceed their expectation at all times", said Mr. Sandeep Singh, DMD & COO, Toyota Kirloskar Motors at the time of inauguration of the TES.
Toyota is known for its excellent after sale services, loyalty and reliability. And the step of launching Express Services proves again the above mentioned compliments. The TES is a huge starting which is being developed over a total area of 8000 sqft and comprises three Express Maintenance bays. Also, this facility has tendency to produce around 35 units per day which quite justifies the operational capacity of Toyota.
Additionally, to make the vehicle body clean and spotless, Toyota also introduced Dry Washing Technology at TES.
At Galaxy Toyota, New Delhi, it has made its debut as a pilot project and company is planning to extend this facility at several metro cities including Bangalore.