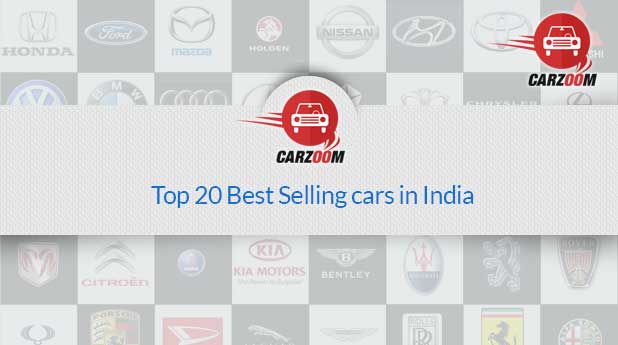 Here's a list of top 21 best selling cars in India:-
Maruti Suzuki Alto: Maruti Alto is probably India's top selling car till date and awarded with most sold car in the world twice. Alto was launched a decade ago received new version in 2006 followed by 2010 as Alto K10 and 2014 with AMT gearbox. The recent Alto series car K10 is the cheapest priced AMT car in India and far better performer than old Alto series. Maruti Alto series is best car for the common man priced at Rs. 3.17-4 lakh. It concludes our top 20 bestselling cars segment with crowning Alto as best car in Indian automotive market.
Maruti Suzuki Swift: Ever since its inception in 2005 Swift has been the favorite cars for Indian buyers. It got major updates in 2007, 2011 and 2014 which helped it in achieving great sales figures. It comes with various plus points such as good looks, superior ride quality, mileage and most importantly the price range which is prime factor in deciding the fate of a car in India.
Maruti Suzuki Swift Dzire: Swift Dzire is one of the top selling compact sedan recently got prominent cosmetic changes and most important of them was tweaked fuel efficiency by 10 percent which makes it India's most fuel efficient car till date with 26.59 ARAI certified mileage. It is available in both petrol and diesel power trains and offered with manual as well AT transmission. India's most successful compact sedan is priced at Rs. 5.08-7.82 lakh and manages to sell over 15,000 units a month.
Maruti Suzuki Wagon R: The boxy aka blue eyed boy hatchback is the volume generator for Maruti Suzuki. Company has been updating Wagon R with various cosmetic changes like fog lamps followed by a new variant called Wagon R Stingray. Despite of not so appealing design and cabin it is still a good overall package comes with three engine options between the price range of Rs. 3.7 and 4.58 lakh.
Hyundai grand i10: Hyundai Grand i10 was a successor for i10 in international markets but Hyundai has sold both i10 and Grand i10 simultaneously in Indian market due to i10's huge demand. Grand i10 came with upgraded engines with company's latest Fluidic design and named as car of the year in 2014. Grand i10 has long list of features and very pleasing to the eyes and most importantly is the cheapest priced diesel hatchback in the country.
Maruti Suzuki Omni: Omni was launched in 1985 and received many cosmetic changes since then and it has been India's favorite car. Even though it is an old product it is still a favorite car for transporters, taxi owners and large families and comforts one's pocket at a very reasonable Price of Rs. 2.24-2.70 lakh.
Hyundai Eon: Hyundai has launched the entry level hatchback in 2011 to rival Maruti's Alto and targets those who wants to buy their first car. Hyundai EON has a pretty design thanks to fluidic design technology and delivers better fuel efficiency than other cars in the segment. One gets all this in affordable price domain of Rs. 3.09-4.23 lakh.
Mahindra Bolero: Mahindra Bolero is the oldest and best selling SUV of the country with more than 70% of sale comes from Rural India. Bolero has been on the top spot of largest selling SUV for 9 consecutive years mainly due strong body structure, reliable engines and pocket friendly price. In the coming months Bolero's facelift might take the legacy of this popular SUV to the next level.
Maruti Suzuki Ertiga: India's largest car maker, Maruti entered the MPV segment in 2012 with Ertiga and set the sales chart on fire. It is available in petrol, diesel and CNG trims and offers plunge driving dynamics. It proved to be a good value for money product comes at an affordable price of Rs. 6-8.7 lakh.   
Toyota Innova: MPV segment is being dominated by Toyota's Innova for over a decade now, despite of dated exterior now still it manages to retail over 4500 units a month. Since its launch many competitors came like Ertiga, Mobilio but none of them able to dethrone it from the top spot. Innova comes at Rs. 10.3 and 15.8 lakh, it is certainly overpriced but one can afford it for extra space and comfort.
Honda Amaze: Honda car India was struggling in the market and then came company's first compact sedan to revive the sales. Despite of quirky front fascia it ticks most of the right boxes like inclusion of Diesel engine, automatic gearbox and excellent fuel figures which helped it to become the dominant force. Honda amaze comes at an amazing price of Rs. 5.19-8.21 lakh.
Hyundai i10: When Hyundai launched Santro everyone thought what's next? Then the Korean car maker launched i10 which sits between Getz and Santro. I10 proved to be yet another success story for Hyundai and become of the bestselling hatchback. The strongest point about i10 is the 4-speed automatic transmission, LPG variant and many more features which outdone its competitors.
Ford Eco Sport: When Renault duster was mesmerizing the buyers with its class, it was Ford EcoSport who dethroned it to become the India's favorite urban Crossover. This SUV is best suited for those who wants stylish, comfortable and decent on-road performer. It offers an overall brilliant package with affordable price of Rs. 6.75- 10-21 lakh.
Hyundai Santro: If one has to name the trendsetter car of India then Hyundai Santro will come in the top three, it is the first offering by Hyundai in India which was blockbuster car. The reason behind such success is the features and its competitive price which helped Hyundai to attain the second largest car maker in India.
Hyundai i20: Hyundai, India's second largest carmaker is giving country some stunning and feature rich cars and one of them is i20 now known as Elite i20. Elite i20 is no doubt the leader of the premium hatchback segment thanks to its eye catchy design, long features and all of this comes at Rs. 5.31-8.05 lakh.
Mahindra Scorpio: Mahindra Scorpio has been the leading the SUV segment since its inception in 2002, it has always had a vicious competition but every time it came out as a winner. Last year, it got a major updation and achieved 50,000 units milestone in a financial year. Scorpio flaunts muscular looks and has premium features which cost at Rs. 7.9 and 13.48 lakh
Tata Indica Vista: Indica compact hatchback is an iconic car for Tata launched a decade ago offers amazing fuel efficiency. Tata Indica created the buzz not only in the hatchback segment but in the Indian automotive industry. Priced between 4.29 and 5.12 lakh is one the best sellers in India.
Renault Duster: Renault Duster has been a great success story for the company, selling over 3000 units a month. Duster is one of the finest compact SUV in India which comes with impressive features and good performance. Price ranges between Rs. 8.30 and 13.55 lakh
Toyota Etios: Etios sedan is one of the best sellers for Toyota in India known for its spacious cabin, frugal drivability. Toyota Etios competes in quite competitive segment which is very sensitive to price and mileage. Packed with long list of features and decent mileage, Etios is good car to buy.
Tata Manza: Tata, the home grown manufacture is known for cost efficient cars and Manza sedan is one of them. Tata Manza offers oodles of space and complimented by 460 liters of boot space. Manza delivers good balance of ride and handling and available between Rs. 5.97-8.58 lakh.
Maruti Eeco: Maruti Suzuki is a wagon body type MPV that has a seating capacity of 8 persons available at the price domain of Rs. 3.37 lakh to 3.67 lakh. It is a successor of Versa available in both petrol and CNG fuel options.