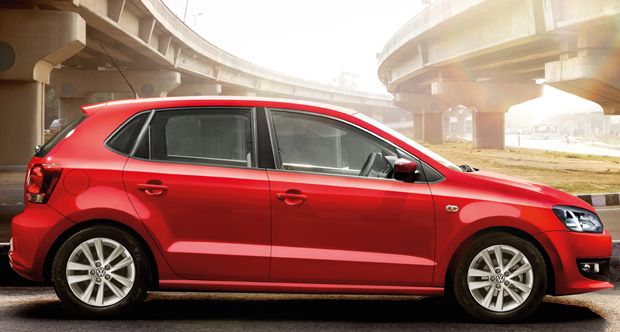 As the German car maker remarks 'it's the car for India', the new Volkswagen Polo is exclusively designed keeping in mind the Indian roads and customer mindset. Let's have a look at the specifications and features to know if it really is the car for India?
Specifications: –
The dimensions of the car are 3970mm x 1682mm x 1453mm with wheelbase of 2456mm. It has ground clearance of 168mm which is lesser than Hyundai Eon (170mm) and Toyota Etios (174mm) and fuel tank capacity of 45l. It's available in both petrol and diesel versions. The engine is 1.2l 3-cylinder in line with displacement of 1198 cms in case, of petrol version, while for the diesel one it is 1.2l 3 cylinders in line with displacement of 1199cms. The fuel efficiency is 16.47 kpl and 22.07 kpl respectively which is again less than its rival Toyota Etios which offers 16.78 and 23.59 kpl respectively. Coming to the performance part, the power provided by Polo are [email protected] [email protected] and [email protected] [email protected] and max torque of [email protected] [email protected] and [email protected] [email protected] respectively. For the people who get a high adrenaline rush with high speed let me tell you the top speed achievable in petrol version is 162.9kmhr, while it is little higher in diesel version i.e. 164.1 kmph.
Features: –
Polo is available in 3 models trendline, Comfortline and highline, trendy names isn't it? Well on the topmost position is 'Highline' with maximum number of features, followed by Comfortline and then Trendline.
The exteriors definitely exhibit superb German engineering with fine contours of the body giving it a aerodynamic shape. The trunk opener is a tilted Volkswagen logo, hmm quite unique and the front bumper incorporates the fog lights adding beauty to it and has stylish headlights and indicators. The front grill is bold and subtle and holds the brand logo in pride. The door handles are little curved to form a nice grip while opening and closing the door and along with this the rear spoiler is integrated with brake lights to increase safety of the vehicle. Well these 2 little intelligent ideas are what make Volkswagen different as these features are yet to be seen in other brand cars. Keeping in mind the hot summers in India, the glass windows have heat reducing capacity. The new alloy wheels definitely eye catching.
The interiors are pleasing with the plush seats and the intelligent climatronic air conditioning system (present only in Highline model) to keep you comfortable inside no matter what is the weather outside. The electronic multi-function display which is available in both Comfortline and Highline has various parameters such as odometer, journey distance, average fuel consumption, time and outside temperature on display. To increase the boot space, rear seats can be folded and the steering wheel in the Highline comes with multi functions like attending call, controlling music, etc. Along with that there are also 3 grab handles to hang your coats, suits, etc. to keep clothes free of wrinkles. In the entertainment section, the RCD 320 music system, Bluetooth, USB, Aux-in and SD card slot always keep you entertained and joyful.
Safety features: –
With the ABS technology the car remains steerable even during sudden braking, the front seat belts are height adjustable and 3 pointed, the hard steel used makes the car really strong and there are airbags for the front passengers to provide protection during impacts.
Concluding the article i would say that Polo has tough competition from its peers like Honda Amaze, Brio, Etios because most of the peers have even better features than it with prices tags less than it. Polo is priced over a range of Rs. 5.1 to Rs. 8.3 lacs. Well keeping all the pros and cons on side you can always take a test ride for free to find if it suits your tastes or not.