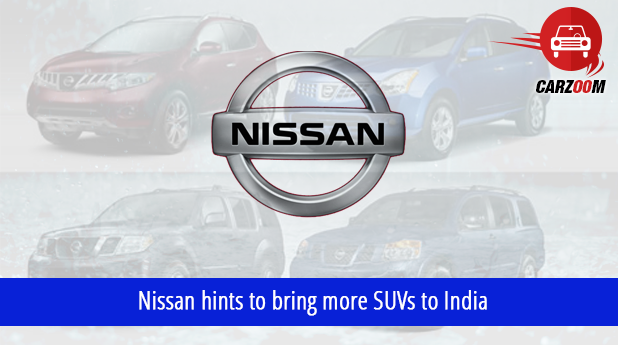 The fair bit success of Nissan Terrano has provoked this Japanese carmaker to bring more SUVs in India, as company stated itself. If reports are to believe, Nissan is planning to expand its sport utility vehicle (SUV) line up in India.
Takashi Hata, chairman for Africa, Middle East and India, Nissan Motor Company, speaking to a publication said, "The Terrano is a big hit. So this is telling us something about SUVs (in the Indian market). SUVs are a great segment in which we'd like to play; it's a matter of time."
As the Japanese carmaker has a long line-up of SUVs model worldwide but with different sizes, designing style and engines. Out of these, Nissan Juke, Nissan Rogue, Nissan Qashqai and Nissan X-Trail are being expected to make their debut in India; no confirmed reports regarding same have come by the company though.
However, Nissan already had sold its SUV X-Trail in India before for a while but its not-much-satisfactory sales forced the company to discontinue it. The reason behind its poor sales was the X-Trail's price which was so much high due to its importing to India through CBU unit. Well, Nissan probably has given a thought to it and its product's local assembly here in India and that's why again planning to bring it back.
Hata further added, "In order to play in the Indian market, you have to produce. Producing isn't an issue. We have the capacity, engineering and Nissan's capability. But the plan has to be right."
As per today's tradition, the compact SUVs are doing much well in Indian car market and Nissan should target this section to become a long-life permanent member of India.