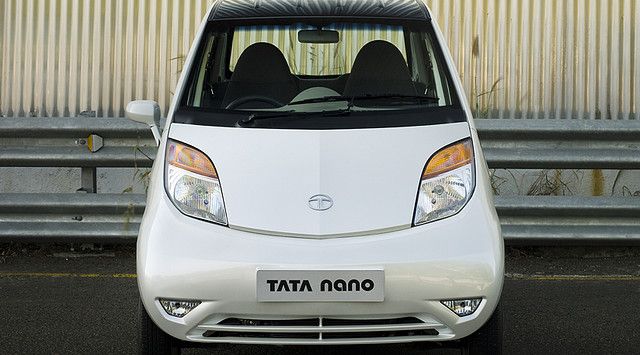 The Diesel version of Tata Nano – the smallest car and cheapest car in india is expected to be launched in the Valentines Months next yr (FEB-2014). The expected price shall range from Rs. 2.4 lacs to Rs. 3.25 lacs. The idea of launching a diesel version of Nano, has come from the low sale figures of petrol version inspite of cheap price than peers Hyundai Eon and Maruti Suzuki Alto. Face-lifting, discounts and offers too couldn't let Nano (petrol) rise high on the sales Chart. So Tata thought maybe people were looking for diesel car, so here it comes, yes ofcourse in the next FEB.!! Though, Tata has sealed its lips on any comments on the newer version. But here are some things we can expect and predict!
The looks of the diesel version of Nano are expected to be slightly different from the petrol version with the new front and rear grill shape, the side profile is almost the same. The cabin like previous Nano will be spacious than its peers. If rumours are to be believed than the car is expected to be equipped with turbocharged 3 cyl diesel engine displacing 800cc and offering max power of around 45 bhp and a high torque figure too. Well the most important fact lies here that it is supposedly to have 30kpl of mileage!! The highest mileage figure so far for any car in the country!! In a country like India where people majorly consider 2 things before buying a car are: – it's initial cost and mileage. This is definitely goin to charm people especially the middle class and the sales figure of Nano is expected to increase manifold.
The features we can expect would be almost the same as in upcoming Nano CNG. Experts predict that turning radius shall be less than or equal to 4.5m. So this small hatchback will be easy to manoeuvre and easy to park. The car can have power steering and Bluetooth equipped central console. The integrated music system shall have mp3 player, USB and AUX-in ports. The upholstery can be leather for the top variant and fabric for the others. There can be keyless entry system and glove box and a descent Air conditioner. The wheels are expected to be steel made.
The car has been seen testing on the roads of Pune and Maharashtra. The car is expected to show some cost cutting here and there. One example of this could be the fuel tank being made of plastic. Aww!! But people are really excited about this car, as with the increasing petrol and diesel prices, good mileage is the only way to balance their monthly expenditure.
While the launch of Nano Diesel is yet to see the light of the day, similar news are coming from Maruti Suzuki lanching a new diesel YL7 car which would replace it's Alto and Zen. So this YL7 could be a tough competitor!
The fate of this new car will be decided in the lover's month next yr!! So the guys who are single and want to impress their lady with the 4 wheeler while keeping it light on their pocket, this car gives you a fairly sound opportunity!! All the best!!:p