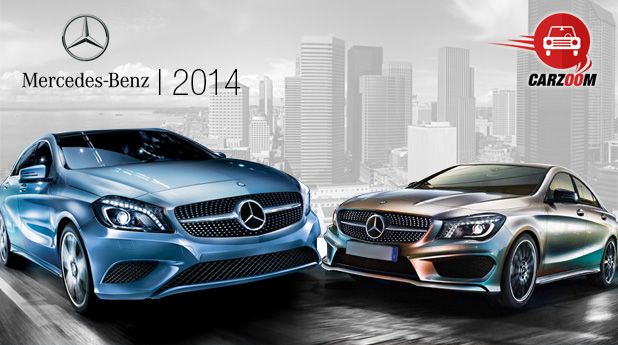 It's probably the after-effects of success that the German car maker, Mercedes-Benz is coming up in India with a long line-up of around eight new models with this New Year 2014. Mercedes-Benz is ruling among its customers hearts since its very first launch and now company is surely planning to increase its network on a higher level.
Eberhard Kern, the managing director and CEO of Mercedes Benz India stated, "2013 was the most successful year for Mercedes Benz in India. Our sales grew by 32 percent in 2013 as compared to previous year. In 2014, we are aiming at double digit growth. You can expect a similar number of launches this year as we did in 2013. We have lined up a number of launches in 2014. It's a kind of work in progress".
The expected list of upcoming eight new models is:
1. Mercedes CLA:
We've also reported earlier that CLA is an entry level sedan which has been launched internationally and now going to hit the Indian market in upcoming months.
It is expected to be priced between 25-30 lakhs and compete in India with Audi A3.
Reportedly, it would carry the petrol unit variant named as CLA 250 which has turbocharged n direct injected 2.0 liter inline-4 engine mated with 7-speed DCT transmission and producing 208bhp and 349.8Nm of max output. Though, it is also said to be equipped with 2.2 liter diesel engine but this could not be confirmed yet.
2. Mercedes CLA45 AMG:
The next expected new model is CLA45 AMG which is said to be the high-performance version of CLA sedan.
It is expected to cost between 50-60 lakhs and would compete with Audi S4.
It is said to be armed with a 2.0 liter turbocharged petrol engine churning out the 355bhp of max power and 450Nm of peak torque along with 4MATIC all-wheel-drive system.
3. Mercedes GLA:
With this GLA model, company is planning to start its compact SUV segments in India. This SUV model gets an eye-catching glimpse and would run with both petrol and diesel fuel, expectedly.
The price range could vary between 30-35 lakhs and its competition would be with BMW X1 and Audi Q3.
It is expected to be powered with three engine variants which are 1.6 liter petrol, 2.0 liter petrol and 2.2 liter diesel engines developing max power of 156bhp, 211bhp and 170bhp, respectively.
4. Mercedes GLA45 AMG:
Like CLA, this GLA45 AMG is also a high-performance version of GLA which is well adorned by a 2.0 liter turbocharged petrol engine producing 355bhp and 450Nm and mated with 7-speed dual clutch automatic gearbox.
It is expected to achieve 0-100km/h in just 4.8 seconds with the mileage of 14.42 km/l.
Its price range is not revealed yet by the company.
5. Mercedes GL63 AMG:
It is an another SUV by the German company, Mercedes Benz which is said to get the mechanical powers of 5.5 liter V8 bi-turbo petrol engine and responsible for developing 557bhp of max power and 760Nm of peak torque and mated with a 7G-TRONIC speed-shift AMG transmission.
6. Mercedes ML63 AMG:
It is the smaller sister of GL63 AMG and powered by the same 5.5 liter V8 bi-turbo petrol unit mated with the same 7G-TRONIC Speed-shift AMG transmission which churns out the max output of 525bhp and 700Nm. It is also expected to equip with an Electronic Traction System.
7. Mercedes S350 CDI:
Being the best class of Mercedes available in market, S-Class is ruling already. While company has launched the new S-Class model recently, the diesel variant is yet to be launched. This S350 CDI is a diesel fuel model which is expected to launch around April-May this year.
This new engine is designed by using Blue Tec Technology and mated with 9-speed automatic transmission.
8. Mercedes S600:
The last but obviously not least yet to be launched model is S600 which is for those users who love to fly the car. It gets V12 engine by developing 530bhp and 830Nm.
While the exact price range is not disclosed, it is said to be placed at very competitive range. Also, it is going to be one of the best performer and luxuriant sporty cars by Mercedes Benz.
Car Zoom's take:
We have three German car makers who are available in Indian car market. These are Audi, BMW and Mercedes. The brands are well known n well reputed and maintaining their position as well as network in India very properly. As these three are known as the one of the top luxuriant brands of India, then competition between them is obvious. This is the reason why Mercedes-Benz is planning to do increment in its India network and also wants to reach its every customer by offering various models.
Not only this, it is also reported that company is working on its after sale services, production, dealership experience etc to make them better.