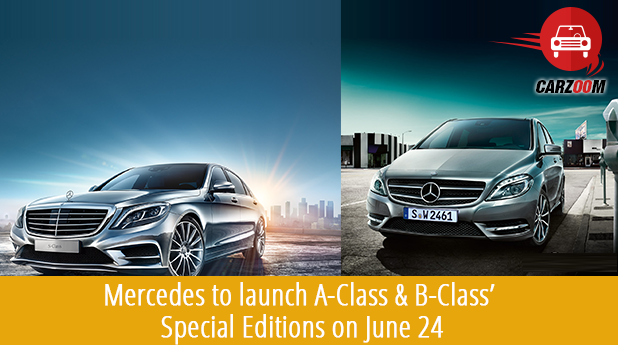 Mercedes-Benz India has officially announced the launch of special editions of its A-Class and B-Class models on coming 24th June. These new editions are based on A-Class A 180 CDI and B-Class B 180 CDI and will be named as 'Edition 1'. While mechanically these new variants will be same as ongoing respective models, some cosmetic changes have been done in their interior and exterior profiles.
Price:
No reports regarding their prices have been confirmed yet but it is expected to be priced over the existing diesel variants. Currently, the ongoing A-class diesel variant is priced at 24.77 lakhs while the B-Class is at 26.83 lakhs.
Engine details:
As mentioned above, both the editions will be based on their diesel variants and there are no mechanical changes. Like the ongoing variants, both A-Class & B-Class' special editions are powered by a 2.2 liter diesel mill developing the max power of 107bhp and peak torque of 250Nm.
Space & Dimension:
However, there are no updates have been reported yet regarding the changes in its dimensions but their ground clearance is said to be increased which can get final confirmation only by the launch though.
Interior & Exterior:
Apart from the entire features range armed in these A-Class and B-Class models, these new special editions will also get panoramic sunroof, new reverse camera, electrically adjustable front passenger seat, centre arm rest and some more. Also, B-Class edition will also get rear seat entertainment package in addition. Further, Mercedes is equipping 'Edition 1' badge in these new variants to make it different from regular A-Class and B-Class models.
On the outside, the glossy exterior mirror housing, newly designed alloy wheels along with some more modified features will mark their presence.
CarZoom's take:
It is being said that this special editions are coming due to many reasons, first ongoing models have less ground clearance which is not being liked by the customers since their launch, and second the A-Class & B-Class didn't get any updates within one year of their launch. However, the exact reason is well known by the company but we definitely wish Mercedes-Benz to get sales hike with these launches. Till then, stay tuned for latest updates.