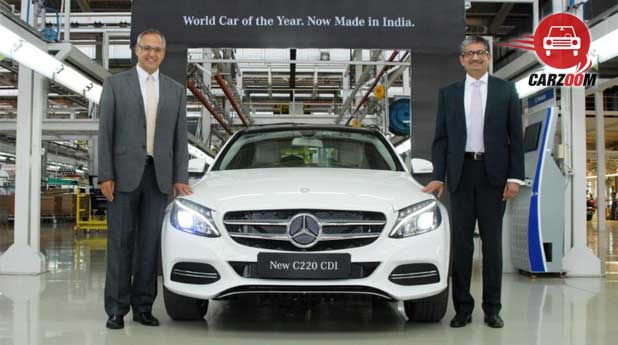 Mercedes-Benz India contributing to the PM Narendra Modi's make in India campaign by maximizing the localization level at its Chakan plant, Pune. Mercedes-Benz India has rolled out the locally assembled C220 CDI diesel from its manufacturing facility by Eberhard Kern, Managing Director & CEO, Mercedes India and Mr. Piyush arora, Executive director Operations, Mercedes Benz India.
Mercedes Benz C220 CDI diesel was launched in February this year with two variants Style and Avant-garde priced at Rs. 39.90 lakh and 42.90 lakh respectively but the locally assembled models priced at Rs. 37.90 lakh and 39.90 lakh respectively. High percentage of localization levels resulted to a price drop of around Rs. 2-3 lakh
The locally assembled C220 CDI variant misses out of certain features as compared to CBU units launched in February 2015 such as mood lighting, illuminated door sills, centre console with glossy faux wood finish and different alloy wheels.
Mercedes-Benz has also announced that C220 CDI now gets up to 60 percent localized contents and with 60% localization Merc goes a step ahead of its arch rival BMW which recently announced 50 percent localization in their cars at its plant in Chennai.
Apart from rolling out the locally assembled C-class diesel Mercedes-Benz has also introduced corporate leasing programme called corporate star lease which allows a corporate client to drive Merc under employee car benefit programme with hassle-free solutions.
The lease programme will cover certain costs such as the maintenance cost, insurance expenses and on-road cost of the vehicle during the lease period and lease will available for 3 or 4 years.
Eberhard Kern, Managing Director & CEO, Mercedes-Benz India said, "With the local production of the new C 220 CDI and in tune with its 'Make in India' commitment, Mercedes-Benz India has now an increased localization content of 60% in this car. We are confident that with the production of the new C 220 CDI in India, we will be able to create a higher benchmark in terms of local production of high-end luxury cars in India, and make our customers equally delighted by providing an unmatched value. Additionally we have launched the 'Corporate Star Lease' product, a dedicated leasing solution from Mercedes Financial Services that will bring immense value for our potential corporate customers."