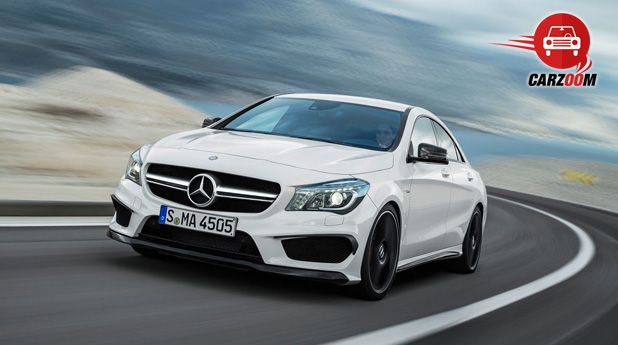 Looks like Mercedes-Benz has finally started playing with the odds in its league. After achieving surmounted pioneers in the world of Automobile engineering and epitomic opulence with its world class and world tempting, super expensive and dream taming vehicles, it seems like Mercedes is planning to give birth to the same kind of luxury in a segment which is considerably budgeted as well. And with the launch of its entry level A class and B class hatchbacks last year, it made pretty clear that Mercedes can't lose behind even in the entry level market segment, when it can dominate the market at both ends in total luxury. And hence, we believe, keeping the same track in mind, people at Mercedes-Benz had decided to unleash the world's most affordable AMG Compact Performance Sedan, the CLS 45 AMG, which is expected to thrill the Indian shores in coming weeks or months.
Design

About this whole new species of car, it's going to be a powerfully evolved version of the Benz's CLA Class Sedans which is going to be tweaked up by Benz's AMG division to make this car extra performance oriented. Apart from that, this car is going to speak a whole new language of designing with flowing line aerodynamic design, which is going to be very strong in built with added style features like frameless windows, high beltline and masculine tail sculpture. The overall design of the car itself speaks a lot about the insanity of this car which we are going to discuss next.
Engine and Performance 

Under the front hood, it's going to be growling like a heavy metal vocalist through the world's most powerful series production 4-Cyl engine which is just a 2.0 litre petrol mill with DI and an advanced turbocharger which all together make the engines pit out huge chunks of power and torque to be at 355bhp and 450Nm. All of this huge and insane power gets delivered to all the four wheels through Mercedes 4Matic drive-train system which is coupled to an AMG speed shift DCT 7-speed gearbox for ultra smooth delivery and distribution of all the madness going around under the hood through your foot. Apart from that, this car is capable of touching a top-speed of 250 KPH with a quick acceleration stroke from 0-100 in just 4.6 sec flat.
Interiors

The AMG tweaks are not just for the engine and outer body, but inside as well the AMG upgrades shouts out loud with AMG performance seats for the car in front and in rear section as well. Apart from that, a very sporty and chiseled interior cabin with added oomph factor through jet-engine inspired air nozzles, red seat belt, red illumination of twin-tube instrument cluster etc. make this car speak more for itself in very proportionately jaw dropping way. Other interior features are not yet specified, but an Apple designed, I-Phone supported TFT display will be employed in this car for sure as an infotainment add-on function.

Safety Plus 

Apart from its insane and untamable looking figures, this car stays totally in control with assured safety of the on boards through features like 9 proposed airbags, Adaptive Brakes with HOLD function and attention assist as some in addition to very common features like ABS+EBD, traction control etc. All those are infused in a lightweight yet rigidly robust body of this car.
Pricing 

It's not yet clear about in which range the Mercedes is planning to drop this vehicle into, but as rumors has it and also that it's going to be costing some big perks with price range expected to cross that of ML Class's.