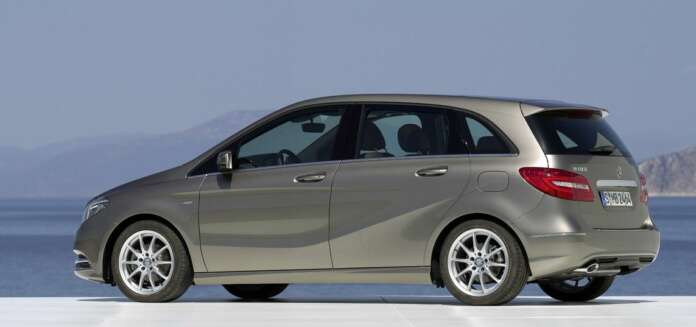 So, the world got acquainted with it last year with its launch in Europe. We Indians saw it as a very neat family car with what was being showcased to us propelled just the same. But to our surprise, it was more than just that when it came to india, and here we are talking about the latest car in the Mercedes-Benz family, the new B class. Which in india will be sold under the segment of a Sports Tourer. But its a hatchback right! Surprised? Let's break the code then.
DESIGN-
This new car in india, may not be a Sports Tourer in its own right but it is a really practical car for an entire family. Based on the premium car segment of hatchbacks, the B-class has a soul foundation. In terms of overall looks, there's no oomph factor in this car apart from those really gorgeous daytime running LEDs which would put some aggression to the overall appeal of the car. Proportionately, this is a typically big hatchback and looks just like a scaled down version of the R-class. Except that, it looks ordinary, but that surely doesn't mean plain! And the side creases and lines have been borrowed from the legendary CLS, all put together in a body which is well built. Looks like Merc is on a mission to put-in the features and hints of all its big gamers in its entry level three-pointers and we don't mind that till it is pleasing us with the charm! You surely wouldn't either!
INTERIORS AND FEATURES-
Peeping inside, you'll come to know in a moment that this car is for your entire family with the space it provides for a family of four or five easily with a big and wider boot to offer a lot of space to put in your weekend family trip luggage. Along with all that ample space inside, the room is also refreshed with an elegantly classy cabin, fit-and-furnished in soft-touch plastic, leather and chrome bits. And there's a one piece wood panel adorning the dashboard which adds an extra sensation of class. Apart from that, regular Benz trademark features are also there like a high-end multi-media system with Bluetooth, steering controls for audio, telephony and cruise control, and seven airbags including that driver-side knee bag for extra feel of home with standard features of ABS with EBD.
Amongst the best features inside this car, comes a 4.5″ ultra screen which certainly kooks expensive for the car and the manual climate control again with SLS AMG derived AC vents. And the instrument cluster here so no fancy in finish but its readable and just the way you would appreciate it to be. Seats are comfortable, but then, there's manual control to set your seating and that too, only for the driver, and no GPS and park assist will surely bother you in a car badged with a Sports Tourer. Still worth it!
ENGINE AND PERFORMANCE-
The engines featured here are nothing you haven't seen but are surely the new variants of those remarkable engines from many earlier cars you've seen, say the A-Class, E-Class, C-Class but finely tuned for this new car. Available in three engine variants with two petrol and one diesel, as follows-
The B 180 CDI with 2.1 litre diesel engine producing 107 Bhp and 250 Nm.
B 180 and B 180 Sport with 1.6 litre petrol and similar power figures of 122 Bhp and 200 Nm of torque.
All engines deliver their produced power and torque to the Front wheels as a part of Mercedes-Benz's Modular Front-Wheel Architecture (MFA) programme, married to a dual clutch seven-speed automatic gearbox that has an AMG connection for if you know.
Engine, along with an auto transmission system, a tight gripping electromechanical steering and state-of-the-art multi-link suspension setup make together a phenomenal blend for this car with a lot of capabilities and can push itself from 0-100 in 10.5 secs achieving a top speed of 190 kph or more. Not so heartthobbing but sweet engine specifications! A spin around is recommended!
Mileage metre-
On diesel, the car delivers a mileage of 13.7 kpl in city chutes
And 18.9 kpl on highway's uninterrupted runs.
Expect an overall mileage of around 12.4 kpl on petrol.
PRICES AND COLORS-
Prices will be like
22.6 lakh for the B 180 CDI
26.77 lakh for B 180
31.69 lakh for B 180 Sport
Again due to the CBU commitments, the car will be available in the same 3 colors as of the A-Class.
Polar Silver
Cirrus White
Jupiter Red