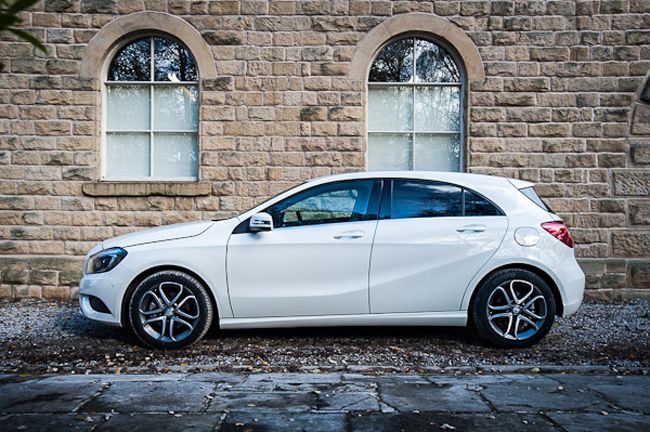 When you don't want to compromise on luxury and when you don't want to compromise on brand value there's a brand you can trust blindly- Mercedes. The German automobile giant is habitual of getting heads turned. And this all new Mercedez Benz A Class has just added another feather to the cap.
Let's find out why people crave for Mercedes. Starting with the Technical part, the car comes in 2 versions namely A 180 Sport( runs on petrol) and A 180 CDI Style( runs on diesel) with dimensions 4292 mm x 1780 mm x 1433 mm with wheelbase of 2699mm. With 4 cylinder inline arrangement the displacement given by 180 sport is 1595cc while is it 2143cc for 180 CDI Style. The obvious difference is because of the diesel engine. With max speed offered by the former is 202kmph, it is 190kmph by the latter. The turning diameter is 11m for both and the torque figures are [email protected] 1250-4000 and [email protected] 1400-2800 [email protected] respectively. Available in 3 colors Jupiter red, circus white and polar silver it is all set to paint you in it's own color.
Special attractions:-  The steering is 3-spoke  multifunction with as many as 12 functions on it. With the Audio 20 CD and the colored 14.7 cm TFT screen involve as much the technicality that a today's engineer can think of like the integrated CD drive both for mp3 and wma, integral telephone keypad, Bluetooth handsfree interface, USB & AUX In ports inbuilt ; moreover driving kit plus for the i-phone will be introduced soon. Got a fairly decent and stylish a/c , also there is also automatic headlamp activation, Bi Xenon headlamps with day time running lamps and washers, 'panoramic' sliding sunroof (A 180 sport) which consists of the electrically operated glass sliding roof to provide ample light in and to protect from solar radiation there is a roller blind which you can pull along with the glass roof, 5 twin spoke light-alloy wheel with 225/45 R 17, pouch on the front seat armrest to put in  your tickets, license or your eatables in place, etc.
The urban design of the upholstery has black diamond pattern trim giving you a sporty and royal feeling once stepped in. The wind deflectors with net structure keeps bay the noise that may disrupt your peace with the roof open. With the foldable rear seats and huge 341l load compartment, space only grows inside this luxury car. There is a completely innovative memory function associated with the driver seat adjustment, which saves 3 positions of seat in memory and 3 of the outer mirror and can be called up again and again, well that's incredible! isn't it?
Well that was luxury but here comes the necessity part of a motor vehicle i.e. Safety. Mercedes has introduced integral safety concept involving both active and passive safety. There are 3 phases of safety:  Safe Driving, In An accident and After An accident. In the safe driving phase there are the Attention Assist feature which recommends a break if it senses driver's drowsiness and Adaptive Brake feature which provides additional safety with ABS technology. The 'dry braking' system removes water from the brake discs and the 'priming' helps in reducing the response time between applying and application of brakes. During the accident phase 7 airbags open to save you from any kind of impact. After the Accident phase allows opening the central lock automatically and automatic engine cut-off to prevent further damage.
This is a car for A-class people and if you are one then don't give a second thought, just go and get a test ride to find all the above mentioned features true and satisfactorily buy it. The price tag varies from Rs.23.63 lacs to 24.33 lacs.