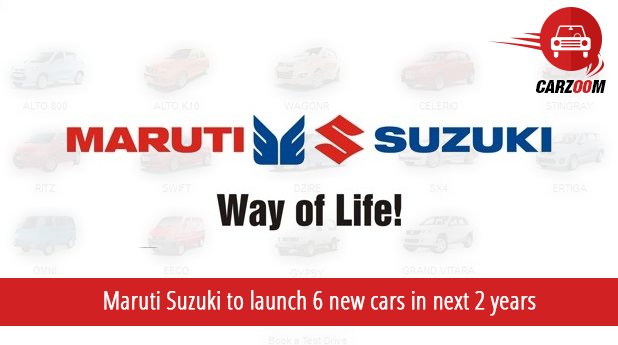 The Indian automobile market is not having a good phase from the last 2-3 years but this new ongoing 2014 year has brought many new and exciting models till its mid and the excitement is still going on. And in this queue, India's most reliable brand Maruti Suzuki is going to give its shares too by launching six new models back-to-back in the next two years.
Maruti Suzuki, which is ruling in India since the time it launched its small car Alto, is now planning to transfer its strategy to other & higher segments. Company has recently tasted the success of its compact sedan Swift Dzire and MPV Ertiga and now its focus will be on these new six cars which will carry the expected price range between 6 lakhs to 14 lakhs.
"There are millions of Maruti Suzuki customers who are looking for an upgrade. People who bought the Swift now want to upgrade to a sedan, SUVs, minivans and bigger sedans, so playing in the bigger car space is very critical", Mayank Pareek, senior executive officer, Maruti Suzuki told ET.
These new models of Maruti Suzuki includes models like Maruti Ciaz (mid-size sedan), Maruti S-Cross (crossover), a compact SUV based XA-Alpha concept, a premium hatchback and two more which is yet to reveal.
This new journey of 6 cars by Maruti will start by the launch of Ciaz mid-size sedan which is expecting to hit the market between July-September this year. This newly manufactured car will replace the Maruti's ongoing ageing sedan Sx4 and will compete in the market with segment leader Honda City etc. Fight is going to be really tough…haaan??
Further, the Suzuki S-Cross might launch by the end of this year and it will compete with other popular SUVs like Renault Duster etc. while the premium hatchback will launch to take on cars like Hyundai i20, new-yet-to-launch Honda Jazz etc. These three cars will be followed by another three in the next 2 years.
Mayank Pareek, senior executive officer, Maruti Suzuki added further, "In a way, they are only slightly higher than the existing range and are in a zone where Maruti's upwardly mobile existing customers are also heading to. So, with its new range, MSIL is actually providing options to its core customers to upgrade. Given the localization advantage, Maruti is expected to price these products spot on, which could turn out to be an advantage for the company visa-vis the competition."