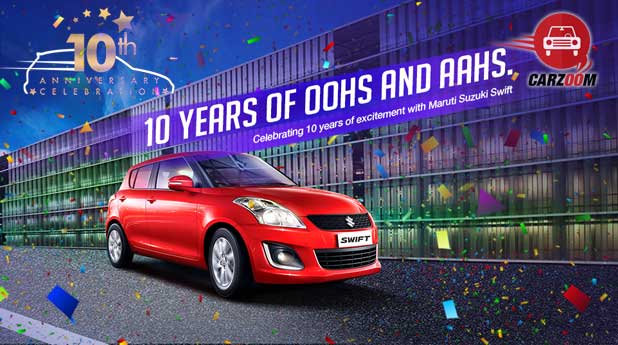 India's largest car maker, Maruti Suzuki would be on the cloud 9 as the Swift completes 10 years and achieved 13 lakh sales Milestone in the Indian market. The Hatchback was first showcased at 2002 Paris motor show followed by Frankfurt motor show in 2003 as a concept car.
The Swift was first launched in Japan in 2004 and then launched here in India in May 2005 and since then it has been the bestselling car in its segment. In spite of being a decade old car the Spark of the hatchback is incomparable and still manages to click over 16,000/month in the country.
Since its launch in 2005, company has sold over 13 lakh Swift hatchback in the country while receiving several frequent accolades.
The iconic hatchback is powered by a 1.2L petrol engine producing 83.1bhp [email protected] and 115Nm [email protected], Swift is also available in 1.3L DDis diesel engine that develops 74bhp [email protected] and 190Nm of [email protected] Both the power trains are available only with a 5-speed manual gearbox.
In the recent update the fuel efficiency of Swift diesel is improved by 10 percent while the petrol version is improved by 9.7 percent. The Dzire version of Swift is now India's most fuel efficient car with 26.59 ARAI certified mileage.
Let's look at the Swift's Journey in India along with sales milestones:-
May 2005: Launch in India
January 2007: Introduction of diesel variant
January 2007: 1,00,000 units milestone
March 2008:   2,00,000 units
February 2009: 3,00,000 units
January 2010: 5,00,000 units
2010: Minor update
August 2011: New Swift
September 2013: 10,00,000 units
October 2014: Minor change with upgraded mileages
May 2015: 13,00,000 units
Apart from the sales achievement the Hatchback has been awarded with ICOTY awards in 2005 and 2011.
Commenting on the occasion, RS Kalsi executive director, marketing and sales said,
Over 1.3 million Swift cars have been bought in India so far. It has transformed the landscape of the Indian auto industry and inspired new products, market segments and categories. Over the years, the Swift has evolved in features, looks and technology, often defining the changes in aspiration and preferences of Indian car customers.
The Swift is currently available in the range starting from Rs. 4.58 lakh to 7.21 lakh (ex-showroom Delhi) and the next generation model is due for launch in the next year.