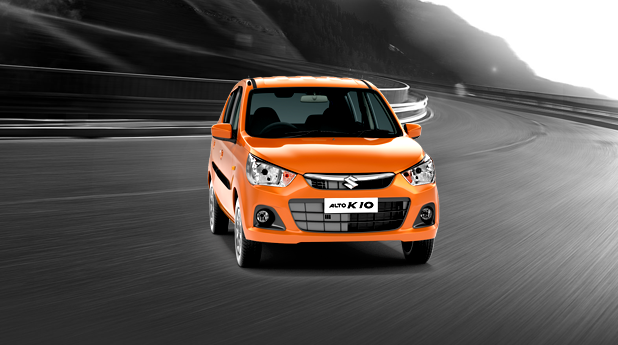 2014 has been a revolution year for automated manual gearbox Maruti started this trend with it Celerio than Tata with its Zest diesel sedan and now again Maruti arrived with New Alto K10 AMT which is placed under 4 lakh. Apart from AMT Alto K10 receives a mild facelift in terms of exterior and interior appearance which make new K10 more aggressive than the previous model. Let us find out the Pros and Cons of New Alto K10.

High:
Most attractive point about new K10 is its affordable price range, new Alto starts at Rs. 3.06 lakh and most importantly AMT variant is under 4 lakh which makes it a least priced AMT car in the current scenario.
Another important for prospect buyer apart from Price is the fuel efficiency and new Alto K10 fulfills that standard in a positive way with the pocket friendly mileage of 24.07 KPL of Petrol and 32.36 km/kg of CNG variant.
Most important aspect about new Alto K10 is the inclusion of AMT gearbox which is a huge plus for New K10 and Maruti has certainly played a trump car by introducing it in such a low price range.
Alto k10 might be equipped with smaller engine but there is no issue when it comes to drivability especially on low speeds with strong performance on first three gear throws.
New Alto K10 features some cosmetic and interior changes which make it more attractive in comparison to previous gen model; this catchy look might attract youth demography towards it with AMT as extra advantage.
Apart from all the efficiency, design and price, initial maintenance cost is very low and Maruti reliable brand name is another advantage for new K10.
Low:
One of the major drawbacks entire Alto series has is rear legroom and shoulder space though in new Alto K10 it has improved a bit but still for even average occupant legroom is still a war.
When you drive New K10 at higher speeds say around 100 km/hr then you will feel vibration of steering wheel and outside noise is clearly evident in the cabin, it feels K10 is under-tyred a bit.
New Alto K10 is a light weighted car which needs more safety features like ABS, EBD etc but Alto K10 is equipped with minimal safety features more safety features could have been added.