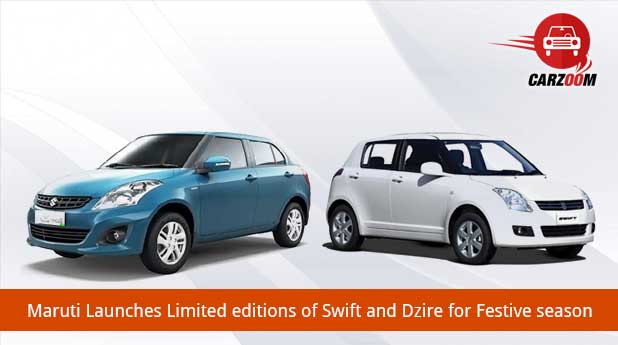 Maruti, India's largest automobile manufacturer who is a supreme leader when it comes to sales, So as the festive season is just around the corner; Maruti decided to boost up its car sales by launching limited editions of one of the best cars in India. The limited editions will be offered with some eye-catching packages to attract the buyers. Maruti knows the art of luring so it will not only magnetize the new buyers but current owner of these cars can also make up their mind to switch to these stunning limited editions.
First let's talk about the one of the hottest hatchback of India, 'Maruti Swift' which is launched with the new name for limited edition 'Swift Silver plus' there are no mechanical changes has been done in Swift Silver Plus.
Cabin of Swift Silver plus gets some new things like Premium steering cover, Sony Audio and speaker system, reverse parking sensors, neck and back pillow cushion, mobile holder with charging system. The exterior part get only one change i.e. Reverse parking camera. These all accessories would cost you for Rs. 31,745 but Maruti is offering for Rs. 27,500 with the Discount of Rs. 4245.
Swift Dzire also gets a new badge as Swift Dzire Regalia which gets interiors and exteriors changes. From the outside, Regalia get new body decals, graphics, regalia Badge and reverse parking camera. On the inside you will find quite a few changes like designer floor mats, wrinkled seat covers, fake wood design at some parts of cabin etc and there are no changes in engine.
The whole kit will cost you Rs. 18,810 as individual units, but Maruti is providing it for Rs. 13,310 offering the Discount of Rs. 5000. Total benefits which customer will receive on the Both Swift Silver Plus and Dzire regalia are Rs. 44,245 and Rs. 30,010.
The limited edition of Swift Dzire Regalia will come at the Price of Rs. 5.13 lakhs and Swift Silver plus will be at Rs. 4.66 lakhs, both the prices are Ex- Showroom Mumbai.
Both the variants are best selling variants in the country and ruling the reign in their segment for quite some time now. The limited editions will also ensure the clearance of existing stock of these cars as both of them receives facelift in near future. This might prove as trump card for Maruti to create buzz of these cars prior to their facelifts which may later pays off and in the meanwhile raise the sales further up.