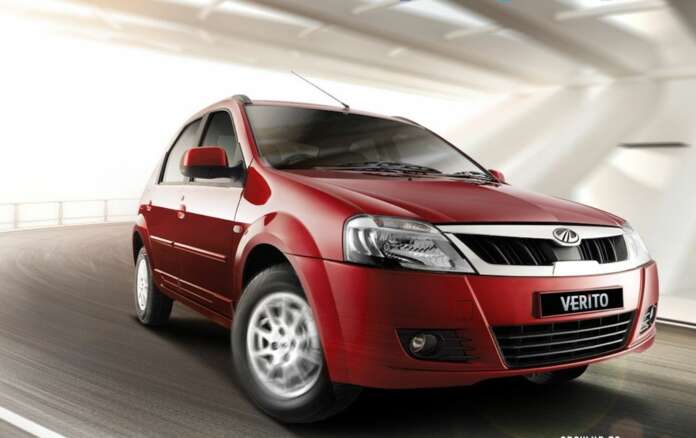 As the trend follows, we have witnessed  successful hatchbacks taking shape of  entry level sedans in the market and it pays off really well adding that extra boot and a little more creature comfort with that bulge. But what is new to the market is brought first in by the Toyota as the result of its Etios Liva, which was a sedan gone on some trims, say The Etios. And this time, its our in-house carmaker Mahindra to put its well-played star on a diet with that very same practice.
And With the practice put on practicality, we have a refreshed compact sedan, offered by the Indian SUV specialist Mahindra & Mahindra, the all new Verito Vibe(CS).
DESIGN-
The overall design of the car is a carry-over of the current Verito sedan in the market minus the boot ofcourse which was refreshed last year in august. The Vibe is an urban-under 4-metre car with refreshed and new smoked headlamps as a latest tweak, the car is overall the usual Verito and even the roof-railing adds to conventionality of the existing sedan.
INTERIORS AND FEATURES-
A look from the inside, the car replicates the sedan with a hint of added carbon-fibre inspired plastic schemes around the car's cabin. The top D6 variant sports a dual tone upholstery, otherwise the car offers the basic blue, black, white color scheme.
The rear offers ample room for three adult passengers with comfort to each of them as they get their individual headrests and enough room for their shoulders and legs which makes it an extremely spacious car, not to forget that 330 litres boot space.
Apart from room space, the car offers various audio functions like the auxiliary and USB ports in the system, ABS with EBD, driver airbag and electronically adjustable mirrors.
ENGINE AND PERFORMANCE-
The Vibe is housed with a common 1.5 litre K2K 4 cyl turbo diesel engine from the Renault- Mahindra Logan, Verito and which also powers the Renault Duster. The engine churns out 64 bhp of power with a decent 160 Nm of torque for good high-speed manners. Does a sprint of 0-100 in 16.57 secs with an estimated top speed of 150kmph. A 5-speed manual gearbox, FWD and the comfortable suspensions for those seemless cruises on the Indian roads.
Mileage of the car is..
12.7 kpl in city
15.4 kpl on highway cruise
And an overall mileage of 14 kpl
PRICES AND COLORS-
The on-road price range of the vibe varies as
6.81 lakh for D2, 7.12 lakh for D4 and 8.01 lakh for the D6 top variant.
There are overall 7 schemes of color to choose from
Aqua Rush(blue), Torredor Red, Dolphin Grey, Diamond White, Java Brown, Fiery Black and Mist Silver.
Many who don't want to stand in line for existing trend would sure be tempted towards this Hatchback cum Sedan – Mahindra Verito Vibe.