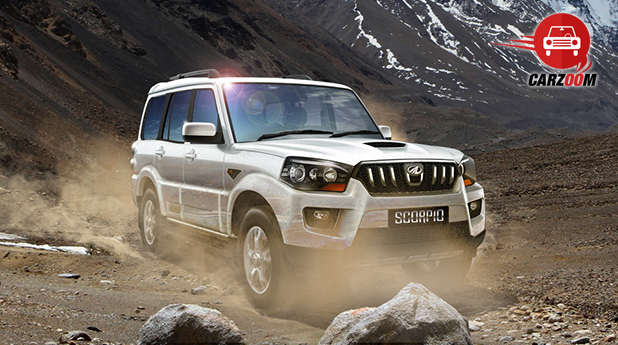 India's largest utility vehicle manufacture, Mahindra and Mahindra has announced that it's most successful SUV "Scorpio" has crossed the 50,000 units' milestone in the financial year 2015. The Mahindra has sold 51,553 units of Scorpio being the highest ever annual sales of the SUV since its introduction in 2002 and it is for the 4th consecutive year Scorpio has managed to cross 50,000 units milestone.
New GEN Scorpio was launched in September 2014 which contributed extensively to the SUV's performance and improved both volume and market share. Mahindra Scorpio has registered highest sales in a month of September 2014 at 6060 units.
The new GEN Scorpio also helped the brand to re-establish itself as a strong player in the segment and also won many awards, accolades like winner of 6 "SUV of the year" awards during that period. The brand's popularity can also be judged from its 3 million fans of facebook which one of the largest online auto communities in the country.
Scorpio's popularity can also be assessed with its YouTube channel which has acquired over 10 million views since its introduction in India and new gen Scorpio contributed significantly in this.
Mahindra Scorpio comes with a powerful 2.2L mhawk diesel engine that produces 120bhp power and 280Nm of peak torque matched with only 5-speed manual gearbox. Scorpio is also available 2.2L m2DICR diesel engine generating 75bhp power and 200nm torque.
Mahindra will soon launch an automatic variant of this iconic SUV in India and recently Mahindra has ditched the quirky looking rear black cladding aka appliqué from Scorpio on customers feedback.
Scorpio has always been the best performer for the brand since its launch and apart from India, the SUV is also sold various international markets such as Africa, ASEAN region, Chile and Latin America, the brand is also present in New Zealand, Tunisia, Italy, SAARC and Saudi Arabia.
Speaking on the milestone, Pravin Shah, President & Chief Executive (Automotive), Mahindra & Mahindra Ltd., said,
This is a very proud moment for us, as the iconic and trend-setting Scorpio has achieved yet another milestone.  This achievement reaffirms the brand's popularity as well as the confidence consumers have reposed in us. Today, the Scorpio is one of the most admired and awarded brands within the Indian automobile industry. With the launch of the New Generation Scorpio, we have further shifted the orbit and scripted a success story like no other.