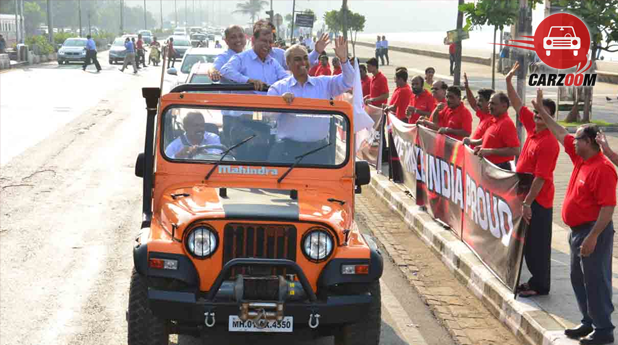 2015 bring good news for home grown manufacture Mahindra & Mahindra as they have achieved the milestone of producing 50th lakh vehicle from the company's plant in Kandivali, Mumbai by rolling out 'Thar'. Company decided to celebrate this huge achievement with their 3000 workers by forming 4km long human chain from Air India building to Girgoan Chowpatty in Mumbai. Mahindra achieved 40 million sales mark in 2012 so M&M is able to sell another 10 lakh cars in just 2 year to achieve 5th Millionth milestone this year.
Acknowledging the milestone, Anand Mahindra, Chairman, Mahindra Group, said, "This rollout of our 5 millionth vehicle marks an important milestone in our automotive journey over the past seven decades. It is also a reflection of the commitment and can-do spirit of our people who continually strive to raise their game while producing world class vehicles".
Speaking on the occasion, Dr. Pawan Goenka, Executive Director, Mahindra & Mahindra Ltd. said, "Today marks a momentous and landmark day in the history of Mahindra's Automotive Division. There are few companies which can identify as closely with India's destiny and industrial progress as Mahindra can. In our evolving journey to becoming India's leading SUV manufacturer, we have pushed the boundaries and taken on new challenges at every step. I dedicate this achievement to each and every member of the Mahindra family."
Mahindra achieved this milestone due to the combined vehicle capacity of company six plants- Chakan, Nasik, Haridwar, Zaheerabad, Kandivali and Lgatpuri. 2014 didn't witnessed a large raft of cars from M&M but New GEN Scorpio made its way in that year which received warmth welcome from the buyers.
In December 2014 M&M achieved 5 percent growth by selling 17311 units against 16436 units in December 2013. However its total sales stood lower in December 2014 against December 2013 but its heavy vehicle section saw 92% growth. In 2015 around 3-5 vehicles are lined up to be launched by M&M new Bolero, Scorpio AT, Mahindra S101 etc, so we can expect this graph to keep moving in upward direction. This year is also important for Mahindra because this leading SUV maker might launch new engines as well plus Mahindra might launch their first ever petrol SUV.