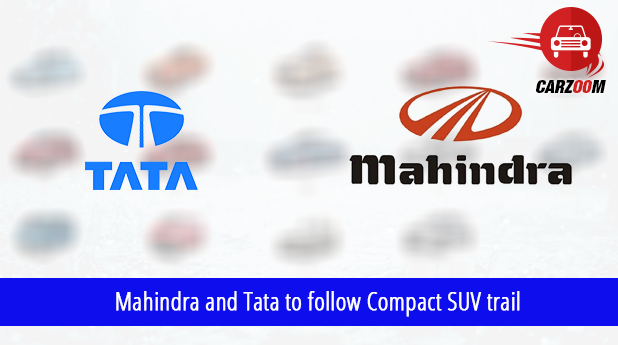 Just as the market desires, the functioning and demand of the vehicles in Compact segment is touching skies in India. The increasing demand of compact vehicles i.e. Compact Sedans and Compact SUVs is increasing day by day. And to cater to that demand in the market and make profit out if it, almost every company is ticking and trying to roll out their suitable competitors also.
Talking about the Compact SUV segment alone, with the launch of Duster and EcoSport, the market had been flooded with reports of other companies which either had already launched or are totally in a mood for launching their respective vehicles for the segment and this includes many market giants like Volkswagen, Honda, Nissan, Hyundai, Maruti etc.
But apart from them, there are these two India bound Automobile companies which are famous for their SUVs and UVs in the market already. Still, with the growing proportion of demand and supply in the market for Compact SUVs or Crossovers, these two companies had finally made an alarm about being ready to throw in, their able pawns for the same segment in the market. These two companies are none other than but Tata and Mahindra & Mahindra. 
While Tata unveiled its plan about the segment in the Indian Auto Expo and then the Geneva Motor Show this year, M&M on the other hand had been reported testing its big league player around the outskirts of Nasik with full secrecy intact and no such leaks about its upcoming products could be witnessed. Still, we managed to slip in and get some freshly backed information just for you guys from both the companies.
Tata
So, as told already, Tata unveiled its upcoming Crossover vehicle in the Indian Auto Expo itself with a name Nexon as it was then called. Sources from Tata suggest that the modeled vehicle was a complete prototype and much is proposed to change in designing till the time it actually gets out of the plants. Still, Tata is expected to produce the vehicle keeping the Global Standard Project in mind which basically states clearly that the car is going to be handsome.
Apart from that, it is said to be based on the Tata Vista's latest platform and like the upcoming Zest and Bolt, could also sport a set of two engines to be very similar i.e. a 1.2 litre Turbocharged Revotron petrol engine along with a Fiat driven and the very conventional 1.3 litre Multijet diesel engine which currently the Vista sustains through. Also, if we get lucky then a bigger diesel engine can also be counted to charge the new fleet.
Apart from that, the C-SUV is expected to be priced at around 6.5-9 lakhs based on the market position and overall product features which are still under veils.And it is expected to hit the market most likely by the early 2015.
Mahindra & Mahindra
On the other hand we have our leading Indian SUV maker which already have a fleet of some of the market topping SUVs, still it plans to launch a lot more in the coming time. But amongst all these upcoming and speculated SUVs, one Compact SUV in particular remains very important for the company which it codenames as S101.
The company had been pretty secretive about this product up till now. But still, taking insights from some of the company officials, we came to know that the new SUV is going to be carrying somehow the same design theme as the current XUV 500.Apart from that, this scaled down XUV is told to be measured under 4 meters making it a Sub- 4meter category vehicle.
Also, under the hood it is expected to borrow the power-train from the Quanto, which is a 1.5 litre Bi-turbocharged diesel engine. Apart from that, it is also rumored that the company may join hands in R&D with its own Korean company, SsangYong, to develop a 1.2 litre potent engine for the same car.
Just like the Tata's, Mahindra may also price its compactness at around 6-10 lakhs at max. But unlike Tata's, this SUV can arrive till the end of this year itself.
Except this information, not much is clear about these upcoming and existing Compact SUV beating vehicles. But we will keep searching for more updates on the cars just for you. Keep looking the space for more updates on upcoming cars and news related to them.