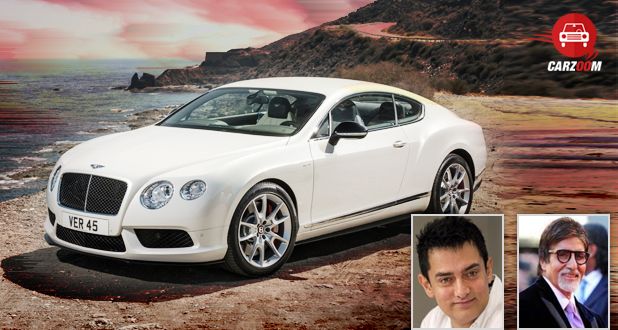 Riding high with the success in their lives, Indian celebrities are fond of owing expensive and luxurious cars. They never settle for anything less than what they actually desire. Here is the list of few celebrities who have a garage full of cars which a common boy of the street dreams of.
Shahrukh Khan
As expected, number 1 is the Baadshah of Bollywood, the King Khan of Bollywood. Shahrukh Khan has successfully completed something like twenty five years in the Bollywood film industry now and has been the victor of numerous praises over the years. His list of cars is comprises of the Bugatti Veyron, the fastest production vehicle in the world. The Veyron reins in at a huge Rs 12 crore. His fleet includes other dazzling automobile like BMW 6 Series Convertible, Audi A6, Rolls Royce Phantom Drophead Coupe, Bentley Continental GT and Land Cruiser.
Aamir Khan
The Perfectionist Khan besides his Rolls Royce Ghost Phantom, Bentley Continental, BMW 6, and Land Rover Range Rover has recently bought a bomb proof Mercedes S600 luxury sedan for special protection. This specially built car costs INR 10 crores to him. He is the second Indian after former PM Manmohan Singh to acquire this followed by business tycoon Mukesh Ambani.
Sachin Tendulkar
Looks like the Cricket God is a BMW lover, he currently owns the following cars: BMW 760Li (7-Series), BMW X5 M50d, BMW M6 Gran Coupe, NISSAN GT-R and BMW M5 "30 Jahre M5" (Limited Edition). His former collection includes the most famous Ferrari 360 Modena, Maruti 800 (1989 model), Mercedes-Benz C36, Mercedes-Benz Sl600, Audi Q7 and BMW M5 (E60 And F10).
Amitabh Bachchan
The angry once young man is most of the time spotted in the Rolls Royce Phantom. He also owns a Bentley Continental GT, a Porsche Cayman S, a Mercedes SL500, a Range Rover, a Mercedes E 240, a Lexus LX470, a BMW X5, a Mercedes S320 and a BMW 7 Series among others. Besides, Red BMW Mini Cooper is his favorite.
Ratan Tata
Ratan Tata, the man who gave nation the cheapest and smallest car, drives around on a set of ultra luxurious wheels. Here is the list of rides that Rule the Tata, they are like the Ferrari California, a Maserati Quattroporte, a Cadillac XLR, a Mercedes SL500, a Chrysler Sebring and a Land Rover Freelander. According to the sources, he individually pampers all his cars and every Sunday morning he takes each of his stunning rides for a ride in the streets of South Bombay.
Mukesh Ambani
According to the grapevine, Mukesh Ambani is the proudest owner of 168 cars (with three private jets). Some of the most notable Mukesh Ambani drives are the Maybach 62, Bentley Flying Spur, Benz S Class, and Rolls Royce Phantom etc.
Anil Ambani
The younger Ambani isn't far behind with a line-up of a garage full of world famous (and dreamt) automotives such as Lamborghini Gallardo, a Lexus SUV, a Mercedes S class, Mercedes GLK350, an Audi Q7, a BMW 7 series, a Rolls Royce, a Porsche and a Maybach.
Ajay Devgn
The usually reserved looking actor proudly owns really cool drives. Devgn owns a modified Toyota Celica, BMW Z4, a Mercedes Z-class, a Maserati Quattroporte, a Range Rover Vogue, the vintage 1967 and a Ferrari. The Vintage 1967 car used in one of his Bollywood projects, Once Upon a Time in Mumbai.
Sanjay Dutt
Sanjay Dutt has a fascination for super cars from his early childhood and has paid the bill for a Ferrari 599, an Audi Q7, a two-seater Audi R8, Audi A8, a Mercedes Benz M-class, a Lexus SUV, a Porsche SUV, a BMW 7-Series, a Rolls Royce Ghost and a Toyota Land Cruiser.
Vijay Mallya
Providing rigid competition to the Baadshah, Vijay 'Kingfisher' Mallya is the owner of more than 250 vintage cars which includes Jaguar Sport XJR 15, Rolls Royce Ghost, BMW M1 and many vintage automotives such as the Chevrolet Corvette, the Shelby America Cobra 427 and the Ferrari 365 California Spyder.