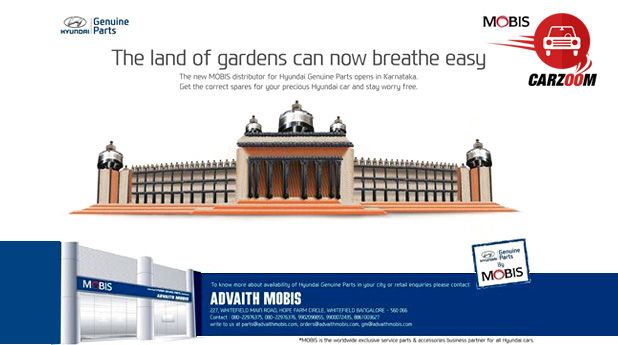 As per the news published in a local newspaper of Bangalore; Hyundai Motor India Ltd. has begun the over-the-counter (OTC) sales of spare parts in Bangalore. This responsibility is given mutually to two official distributors of Hyundai genuine parts: Advaith Hyundai, Bangalore and MOBIS. The first store of this OTC sale is opened by the Hyundai at Whitefield, Bangalore and named it as Advaith MOBIS.
The facility of sales of spare parts freely will help those Hyundai customers who prefer to go for the servicing of their cars as per their own choice of service centers whether it's Hyundai's authorized workshop or any non-authorized. Till now, customers had to visit only Hyundai's authorized service centre for the servicing coz car's original spare parts were not available at any other place.
One more benefit of this facility is the availability of Hyundai's spare parts at much cheaper price than before. The reason is, any unauthorized service centers sell the vehicle's original spare parts at much lower cost than those authorized centers which are attached to Hyundai's After Sale Service chain.
This step by company will definitely hike the sales of Hyundai models coz people usually prefer to buy those brand's cars whose original parts could be availed easily. It will also assist this car brand to maintain its strong position in the competitive list of car market.
Before Hyundai, some other reliable car makers in India like Maruti Suzuki, Tata Motors and Mahindra have also started this facility of selling spare parts via OTC route. It is a must to do step which should be followed by every car makers and we hope that more car manufactures would make their place soon in this particular queue.