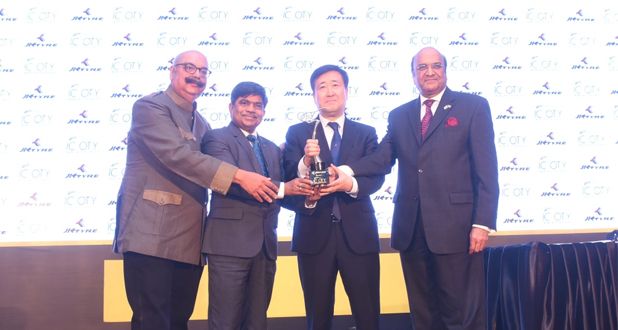 After winning the popular 2016 Car and Bike award in the Best Compact SUV/Crossover group, the Creta has now bagged the most popular Indian Car of the Year (ICOTY) 2016 award. As the most cherished and trusted car maker in India, Hyundai Motors India has 3 ICOTY's successively in its cap for its products Grand i10, Elite i20 and CRETA as ICOTY 2014, 2015 and 2016 respectively. Prior to this, it was Hyundai i10 that won the ICOTY Award in the year 2008.
With the ICOTY 2016, Hyundai Motors India became the only car manufacturer to get four ICOTY award. This award is given after checking the cars on various parameters such as price, styling, fuel economy, comfort, performance, practicality, safety, technical innovation, money value and the vehicle's aptness for Indian road conditions. Creta underwent all such aspects and came up with gold and silver.
The most incredible ICOTY award is adjudged by a assorted group of 14 jury of all the high-flying automotive publications in the country: Rahul Ghosh (Auto Today), Yogendra Pratap (Auto Today), Ishan Raghava  (Auto X), Dhruv Behl (Auto X), Aspi Bhathena (Car India), Rohin Nagrani (Motoring World), Bertrand D'souza (Overdrive), Aninda Sarda (Car India), Bob Rupani (Overdrive), Girish Karkera (BBC Top Gear), Aninda Sarda (Car India), Ouseph Chacko (Evo India), Sirish Chandran (Evo India), Pablo Chaterji (Man's World) and Muralidhar Swaminathan (The Hindu Business Line). For ICOTY 2016, Bob Rupani, founder member of ICOTY chaired the panel. While Congratulating HMIL, he said, "The ICOTY has clearly become the most credible and coveted auto award in India and is known for its honest and non- buff voting by highly experienced jury members. I congratulate Hyundai for winning this award for the third time in a row. Scoring a hat-trick at ICOTY is an admirable achievement and by no means an easy feat. It shows that Hyundai is consistently making award winning products of very high standards."
On receiving this award, MD and CEO of Hyundai Motors India Ltd, Mr. Y K Koo said, "We are honored to win the most prominent automotive award – 'Indian Car of the Year 2016' for our make in India, made for the world product- the Perfect SUV- Hyundai Creta. The Creta is a true face of 'New Age' Hyundai setting new standards in the industry. Winning the third consecutive ICOTY award represents the faith and belief of customers in the brand. We thank all our customers, partners, media and jurors who have chosen Creta as the Indian Car of the Year 2016 and made Hyundai the most loved and trusted car manufacturer. With innovation at its core, Hyundai is committed to make global quality products with cutting edge technologies and fortify the Hyundai brand, caring for our customers in India and global markets."
The design of Hyundai Creta compact SUV is based on the most admired Fluidic Sculpture 2.0 design philosophy. In addition to this, enhancing the design and looks of the car, the Creta comes on road with large chrome hexagonal grille, a 17 inch diamond cut alloy wheels and projector head lamps with LED lights (daytime running).
Under the body, the Creta is energized by petrol and two diesel engines. The petrol version being a 1.6 litre VTVT engine that produces 121bhp and 155Nm of peak torque, and on the other hand, the diesel variants is powered by a 1.4 litre CRDi providing a output of 89bhp, 220 Nm of peak torque and a 1.6-litre CRDi engine that creates 126bhp and 260Nm of peak torque. Transmission options will include 6-speed manual transmission and a 6-speed automatic transmission. For your kind information, only the diesel variant comes with the automatic transmission.