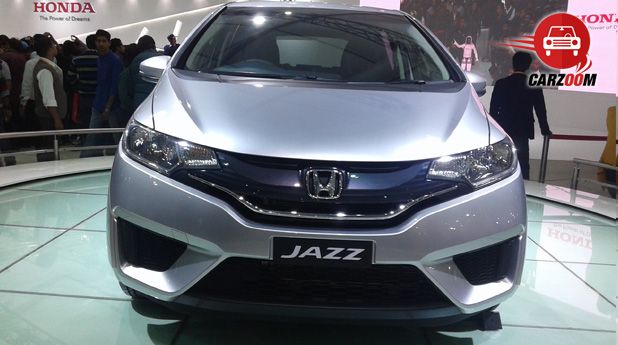 Indian market is so keen and tempted with Honda's plans up-sleeve that the further delay of Honda Jazz in India is making people and market go crazy. If expectations could be lived, Honda Jazz could have been here already. But as Honda got more engaged to its commitments with launching the Mobilio in here, Jazz recently has been confirmed to get delayed for its Indian launch till early next year. Although the sources suggest that Jazz is most likely to make this much speculated come back before the end of the financial year anyhow.
But on a parallel road, while Honda's Indian division was busy introducing and establishing Mobilio, it was Jazz being introduced internationally in many countries including Indonesia, New Zealand and Philippines.
Talking majorly of the Indonesian launch, where the car had been just launched recently in its fresh and new avatar, the car really looks similar to the prototype we saw in the Auto Expo this year. Further, the car here had been launched in three fresh and live trims i.e. Jazz Type A, Type S and finally the sport trim Type RS. Despite of the upper and feature trimmings difference in all the three variants, all of them are charged by a common and City famous 1.5 litre i-VTEC petrol engine which will be producing around 120Ps of power and 145Nm of torque. While the power will be distributed to the front wheels through a drive train mated to a basic 5-speed MT system with an option of CVT box is also provided amongst S and RS Type trims of the car.
Visually, the RS with sporty kit, added to an already sporty stance of the car makes it look cool but decreases the overall ground clearance due to the sporty skirting of the car. The RS variant yet again has an advantage as it was the only variant we noticed which features cruise control, engine start button, 16″alloys, keyless entry, leather wrappings on steering wheel and gear knob etc.
Apart from that, ABS with EBD is there and a set of two airbags remained standard equipment with all of the variants. Internally, the car as proposed earlier, remains what was showcased to us in Auto Expo again with sleek inner styling and inserts with constant metal highlighting trims all around the cabin with central touch infotainment system just like the City. The car as before is still too spacious a hatchback and the seats are yet again very comfortable with ample passenger and luggage spacing.
But with the price range, which is 9.96-12.31 lakhs in Indian currency to the Indonesian market will be high if offered in India as well.
Apart from the pricing reduction, India version is expected to hold two more engine options in the fleet i.e. 1.2 litre i-VTEC petrol and 1.5 litre i-DTEC diesel engine.
For more updates, keep following us this space.