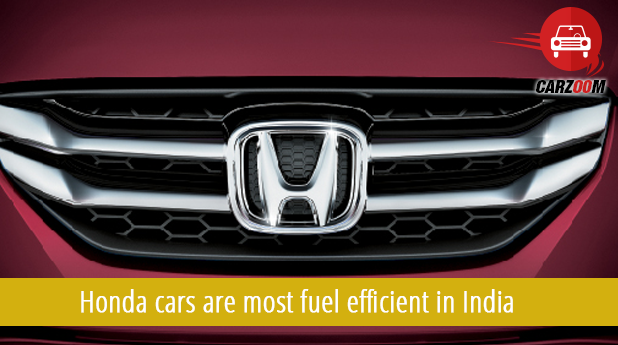 Did you notice that lately Honda has become the new no. 1 holder on the terms of fuel efficiency? Yes, it's true; the new gen models of this brand are least thirsty for fuel and hence offer best-among-rivals claimed mileage. Apart from this, the other surprising news is that previous 1st rank holder Maruti Suzuki is not even in the list of top 15 best fuel efficient variants this time, strange but true.
As a matter of fact, we all know that fuel-efficiency is that benchmark that alone can reverse the purchase decisions in India. It is a demanding factor for the success of products and companies have been investing huge amounts in new technologies to deliver more distance to every litre of fuel.
Meanwhile as per today's market situation, if you count for mileage at the time of buying a car then go for Honda's models. However, the selection of these top-15 fuel efficient models has been done on the bases of car's ARAI certified mileage and hence which may vary as per particular roads conditions.
"As a latecomer to the diesel market, we had set the goal of delivering highest mileage. We were able to achieve it by innovation that is also in line with Honda's global philosophy to make environment-friendly and mileage conscious cars," said Jnaneswar Sen, Honda's senior vice-president of marketing and sales.
There was a time when Maruti was the leader of almost a decade coz of its that time's most fuel efficient model 'Alto' but time has changed and so does the leader. As per the data collected by Economic Times, Maruti's currently best fuel efficient car Dzire (compact sedan) which offers around 23.4 km/l of claimed mileage figures comes at 19th position in the list of fuel efficient cars across all brands.
Here is the list of top-15 fuel efficient car's variants of India, as per the 'The Economic Times':
| | | | | |
| --- | --- | --- | --- | --- |
| S.No. | Manufacturer | Model | Fuel Type | ARAI Certified mileage (km/l) |
|  1 | Honda | City | Diesel | 26.0 |
|  2 | Honda | Amaze | Diesel | 25.8 |
|  3 | Chevrolet | Beat | Diesel | 25.4 |
|  4 | Tata Motors | Indigo eCS | Diesel | 25.4 |
|  5 | Tata Motors | Nano (BSIV) | Gasoline | 25.4 |
|  6 | Tata Motors | Indigo XL | Diesel | 25.2 |
|  7 | Tata Motors | Indigo | Diesel | 25.2 |
|  8 | Tata Motors | Indica eV2 | Diesel | 25.2 |
|  9 | Tata Motors | Nano (BSIII) | Gasoline | 25.2 |
| 10 | Hyundai | Xcent | Diesel | 24.4 |
| 11 | Hyundai | Grand i10 | Diesel | 24.0 |
| 12 | Toyota | Etios Cross | Diesel | 23.6 |
| 13 | Toyota | Etios | Diesel | 23.6 |
| 14 | Toyota | Etios Liva | Diesel | 23.6 |
| 15 | Tata Motors | Indigo XL DICOR | Diesel | 23.6 |