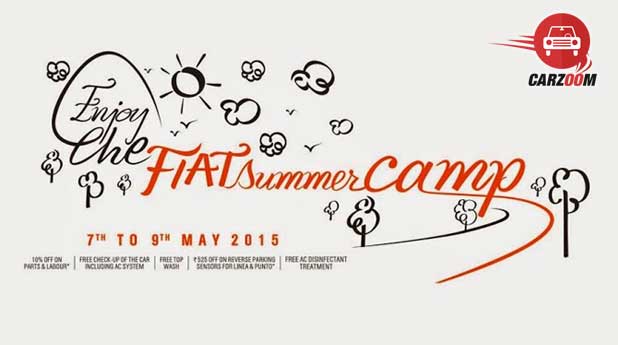 Fiat India is organizing summer camps for three days from 7th to 9th May, 2015. The camp is staring from tomorrow across India at all their workshops in more than 95 cities. All the Fiat customers are eligible for the camp and will enjoy certain benefits in this camp.
Fiat India will also provide 60 point free check up along with various benefits such as:-
10 percent discount on mechanical parts and labor
Air conditioning disinfection treatment
Fiat is also giving a discount of Rs. 525 on reverse parking sensors for Punto Evo and Linea sedan
Free check up of the whole car that includes AC also
Speaking about the initiative, Mr. Kevin Flynn, President and Managing Director, FIAT Chrysler India Operations said, "The upcoming summer checkup camp by FCA India is a step towards our efforts to enhance customer engagement. FCA remains committed to provide the Indian market with world-class after sales service through their network of workshops across the country. We have seen a very positive response to all the checkup camps in the past. FCA's summer checkup camp is a promising way to connect with our existing customer base and conduct the preventive check for them to let them know that FCA highly cares about their safety."
The existing customers will be contacted through email or text messages to inform about the camp.
Fiat India is making continuous effort to strengthen its dealer network and to provide great services to its customers like under AMICO initiative a customer relationship manager is provided to every fiat car owner.
Currently Fiat sells four vehicles in India- Linea, Punto Evo, Avventura and Linea Classic, in the coming months Fiat will launch T-jet versions of Punto Evo and Avventura followed by new Linea sedan which is ready to be unveiled on 21 May 2015.