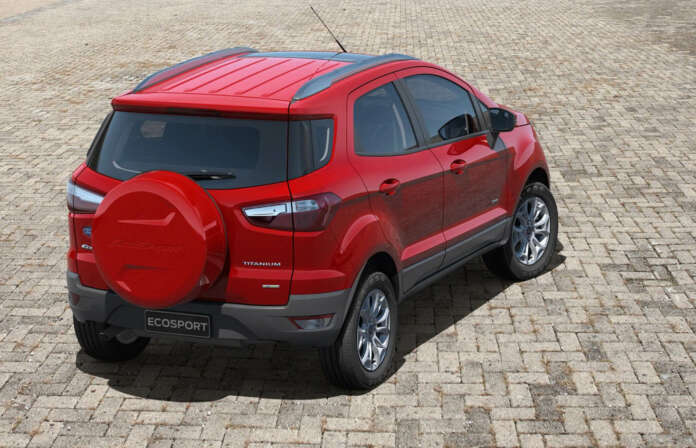 If ever, there were any brands for the common Indian working class to choose a car from, to provide affordable motoring with some fun, character and soul in them, they were none other than Fiat and Ford.
Talking about Ford, the company have had an ever prestigious and liberal past of providing the best consistency in ride, handling and driver enjoyment. With a fleet of the ever iconic Ford Ikon and Old-Fiesta, Ford's were a car you went if you couldn't afford a BMW or wanted a FWD BMW. Really! That's how the scenario was.
And as the news of the new Ford Ecosport was on its peak, it created that same kind of agony in us to have our turn for driving and adding more to the esteemed name of Ford's "fiesta". But the expectations took a downfall once our experts got to ride this Urban class SUV on the roads of Goa.
The bad news is, the Ecosport is not a fun, driver's car. And the good news is, The Ecosport is extremely well-packaged, thoughtfully designed and capable urban SUV. Let's have all the goods and bads about it in detail.

PROS-
It is well-packaged because it is less than 4 metres in length and all engines are less than 1.5 litres, making it fit inside the Indian Government's small car norms, and beneficial in excise duties. That is, the Eco won't be taxed as an SUV for its over 170- mm ground clearance which is a proper 200 mm.
And our experts say it is "thoughtfully designed" because while its no longer than a standard hatchback, little touches, like placing the spare wheel on rear, and those split foldable seats allow a versatile space with enough storage for bottles and cups.
We got to drive the 1.0 litre Ecoboost Petrol engine with 3-cyl and capable of producing 123 bhp of power, which handled better than typical affordable Indian SUVs like the, ahem ahem Scorpio and safari(cough). The engine proved to be adequate for stop and go city traffic which was certainly a hard job to find out in lazy Goa roads, but we still did.
If you want more aggression and high-end performance then the diesel here, serves more than the petrol variants, even at lesser power. And mileage is at happier side with ARAI approved 22.7 kmpl on diesel and 15.6 kmpl on petrol which can make us expect a decent 16-17 kmpl from the diesel mills and around 12 kmpl from the petrol.
What it does really well is providing enough than enough creature comfort with a lot in-cabin toys like the six airbags, ESP, a cooler in the glovebox, steering mounted controls, a Microsoft-designed in-cabin media interface called Sync that syncs with your non/over/smart, smart phones and then let's you access via voice command. Leather on top variants as an option adds style though.
CONS-
Talking about the odd stuffs of this car, our testers were a bit down-shifted with the car's overall performance and capabilities. They say, if you ever wanted to relive the days with the Ikon and Old-Fiesta, the EcoSport is not the car for the job. That's what they did wrong and expected even more wrongly from this hatch-SUV. Even with a figure of 123 bhp of power, the car never feels like 123 horses on the road and there is quite a bit of lag till 2000rpm and post 4000rpm, the engine emits a pleasing petrol growl. But compared to Ford's old 1.6 litre 100 bhp petrol that sounded nice and had a more linear power of delivery, this new-gene turbo-charged petrol has a limited torque curve and also needs you to go through an elongated learning curve to extract the maximum possible.
The five-speed manual is a bit sticky and not as slick as you'd expect from a Ford and further, this isn't the kind of box mated to the kind of engine that will let you put it in the fifth gear and cruise, means no friendly-highway rides, poor!
Now, coming back to the car's ride and handling. It's good, but not to the standards set by Ford and going around corners induces a bit of roll too. After all, the EcoSport is a tall car and is set 200 mm off the ground.
Roll is something you account for in a tall crossover, what you don't, especially in a Ford, Is the light steering. It's the latest, electric-powered wheel and it just doesn't give you enough feedback when you're hustling this mini SUV through a series of tight bends.
The performance and handling department is somehow compensated in the diesel variant and a high-speed cruising ability brings back that joy of relief to some extent. But with hatchback-spec tyres, you won't get free on the gripping department.
Personally, I own a 2004 Ford Ikon 1.6 Zxi and if I had to pick, then this won't be my choice as it doesn't offer the characterful, soulful driving experience that cars wearing a blue oval have provided in India so far.
END VERDICT-
This is not a driver's ford, but works very well as an all-in-one car. Priced well, else not many would have added this in their wish list.