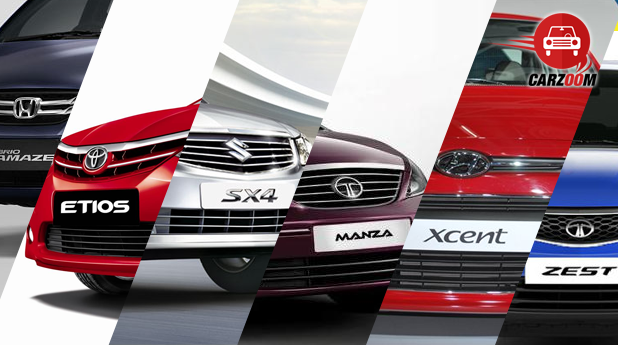 Sedan market is really setting new benchmarks with competitive and performance packed cars in the Indian automotive industry with affordable price brackets. Launch of Honda amaze has started a new trend in the automotive industry which is to provide best mileage in best price with power. Honda cars India has launched its first diesel car amaze in India.
Tata motors Manza series which was launched in 2009 has also started claiming that it better than the Honda amaze in all the departments. Tata Manza is certainly much longer and wider car than Dzire, Etios and Amaze.
New Toyota Etios is another car in this competition which has also launched its new versions in the country. Toyota is a well known brand in India and gets pat on the back for its cars like Camry, Fortuner etc, Etios is Toyota least priced car in the world so one cannot imagine a luxurious feature like Camry or Fortuner.
Mahindra's Verito has been there in the news for the long time but it failed to meet the expectations of the buyers or creating much buzz in the market. When you think about the entry level sedan first name that clicks in your mind is India's largest carmaker Maruti Suzuki and its sedan swift Dzire which today is one of the most successful sedan in the country which will get a facelift version in upcoming Days.
So to sum up we are going to compare Honda Amaze vs. Tata Manza vs. Toyota new Etios vs. Mahindra Verito vs. Maruti Swift Dzire and soon we will find that which one is of these cars is a best buy for you.
Price:
If we talk about pricing then Honda amaze petrol variants they are priced between 5.19 lacs to 7.78, whereas its diesel variants are priced 6.21 lac–8.20lacs.
Tata Manza petrol variants starts from 5.80 lacs and goes up to 7.40 lacs and its diesel variants starts from 5.96 lacs and goes up to 8.30 lac. The third sedan in comparison is New Toyota's Etios whose petrol variants are between 6.3 -7.35 lacs and diesel variants are 7.13-8.35 lacs.
Mahindra Verito comes in only one engine option i.e. diesel which ranges between 6.72-7.77 lac.
The last car in this comparison is Maruti Suzuki's swift Dzire whose petrol models range between 5.07 to 6.80 lac and diesel models range from 5.99 to 7.81 lac.
As we can see in this segment there is lot of aggressive pricing is taking place which will benefit the customers itself because all of these are very competitively price which not only provides alternatives to them but it will make companies to keep a regular check on price as well because customers will opt for those cars which will provide them more affordability.
Brand value:
Brand value is the thing where most of the people rely on poor reputation can certainly dent the brand value of any company. Things like poor sales services, costly or unavailability of spare parts, faulty engines or anything which is negative can dent the brand value of any company. In this department all the above mentioned companies have decent reputation but in this modern time every wants best so by this criteria Maruti Suzuki Swift Dzire is ahead of its competitors it has the best brand value in all the above sedan .Tata Manza also has a satisfactory value among its customers. Amaze is a successful car from Honda and its previous sedans like City, Accord has created large sales numbers which definitely did good to Amaze's Cause. Whereas Mahindra's Verito and Toyota's Etios value is satisfactory but they still have to make a bent in the customer's mind to go ahead from their competitors in terms of brand value, Especially Mahindra because Toyota is a more reliable brand than Mahindra.
Engine type:
Swift Dzire petrol mode has a k-series engine this 1.2 liter k12 petrol motors makes for a power of 83.2bhp at 6000rpm and a torque output of 115nm at 4000rpm is given . The 16 valves have a multipoint fuel injection. It has naturally aspirated air charging system. Coming to the diesel engine it is said to be more refined. A 1.3 dohc diesel engine powers the new swift Dzire. Peak power of 74bhp at 4000rpm and peak torque of 190nm at 2000rpm is what one gets out of this 1248cc engine. The ddis crdi engine sourced from fiat results in great power hauling.
Tata Manza has 1.3-litre quadrajet diesel engine which has been equipped with a common rail fuel supply injection along with 4 cylinders and 16 valves. The claimed average is of mileage of 18.6kmpl, within the city and 21.02kmpl on the highways. Whereas the petrol version has an1.4-litre MPFi (multi point fuel injection) supply system based Safire engine. The petrol sedan's average is 10.89kmpl, when driven under standard conditions within the city limits 13.07kmpl on the highways.
New Toyota Etios petrol sedan model has 1.5L Smartech 4 cylinder 16V Dohc petrol engine. The engine gives power of [email protected] rpm and maximum torque of 132 nm at 3000 rpm. Its diesel sedan is equipped with 1364cc, 4-cylinder 8v sohc, d-4d diesel engine. The diesel engine gives power of 67.7bhp at 3800 rpm and has a maximum torque of 170 nm at 1800-2400 rpm.
The Honda amaze comes with the option of two engines. It has a 1.2-litre capacity for the 4-cylinder, sohc, i-vtec petrol engine while the 4-cylinder, dohc, i-dtec engine is offered with a 1.5-litre capacity. The displacement of the engines in diesel variants is at 1498cc the power for the diesel variant is an impressive 98.6bhp at 3600rpm, while the petrol variants measure at 1198cc. The power is of 86.7bhp at 6000rpm. And. The amaze is also offers a torque with 109nm at 4500rpm for the petrol variants and 200nm at 1750rpm for the diesel variants.
Mahindra Verito is also available in two different types of engines- 1.4 l and 1.5 l. It comes with 1.4 l, 4 cylinder, 1390cc, petrol engine coupled with five speed manual transmission. The 1.4l sohc engine churns out maximum power of 75hp at 5500 rpm and peak torque of 110 nm at 3000 rpm. Verito's diesel comes with 1.5 l, 4 cylinder 1461cc, engine it has 4 models with 5 speed manual transmission. The car delivers a power of 65bhp at 4000 rpm and a maximum torque of 160 nm at 2000 rpm via a five speed manual transmission.
In fuel efficiency department Swift Dzire is now India's most fuel efficient car in India with 26.59 KMPL mileage in diesel trim while delivers 20.85 KMPL mileage in petrol trim showing improvement of 9 percent.
Space:
If we talk about space then all these cars are moreover offer god space but still Verito, Manza and swift Dzire offers a little more than amaze and new Etios. Tata Manza is the lengthiest car among all with 4413mm length, in the width department Mahindra Verito surprisingly turns out to be the winner with 1740mm width and height department which is essential especially for tall occupants. So in this department Swift Dzire turns out to be a clear winner with 1555mm height.
Interiors and exteriors
Maruti Suzuki swift Dzire is appealing from outside. It has been given a touch-up and new features from outside. The exteriors are elegant. The new smoked headlamps are quite unique. Body color bumpers provide a clean look to the front and single slat grille and new fog lamps completes the design of new Dzire.
Length of the new Dzire has been shortened. In interiors some new features are also added to it like the new swift. The swift Dzire is the sedan to buy if you want to buy a sedan with value for money.
Tata Manza has done a great job with the exteriors of these sedan variants. The frontage has been finished in chrome. The front body colored bumper with a pair of fog lamps which have chrome strip surroundings. This bumper has also has body colored rub rails with chrome inserts. Also there is a chrome garnish on the license plate fixing slot. The roof of this Tata Manza sedan series is also unique in its own way.
The interior space of the Manza is excellent, the materials used is good. The Manza is great buy if you wish to sit behind.
The face of the New Etios is sharp and elegant. The upper grille, lower grille and headlamps collectively giving it a shape like that of a man. The upper grille is in chrome finish while the lower grille comes in black. White fog lamps are placed at both end of the lower grille. Rain wipers are provided at front and rear face. Standard rear side view mirrors are in body color along with door handles, rear cowl and bumper.
The interiors of the new Etios also had some changes in it. Now it has an adjustment head rest, the quality of the product has also improved. The panel design doesn't appeal too much. But still the changes are fine but there still some space for changes.
Honda designs some the best vehicles in the industry. Amaze has decided to give comfort to the Indian customers. The front of the car depicts an aggressive design, which remains appealing. The air intake vents seem really futuristic with well designed and rendered strokes. The front grill offers an innovative appeal much, it still has its unique features such as a dual chrome lining between the front grill. These two chrome lining.. The number plate is situated in the front bumper location.
Amaze has a lot space on the inside and a boot of 400 liters and the quality of the plastics is also fine. Its interiors give it a new and a modern look.
Mahindra Verito has impressive exteriors. The front of the sedan is looks attractive with a chrome plated radiator grille. This head lamp cluster is powered with high intensity clear lens halogen lights and it also has a head lamp leveling device, which helps give a better quality vision for the driver. The body colored front bumper has a couple of round shaped fog lamps to further enhance the visibility for the driver.
Mahindra Verito' interiors are sharp and spacious for both the row, as they are based on its predecessor Logan. It has better of the plastics and the feel is really good inside it.
Verdict:
While comparing these sedans I found that they all have something great to offer but I think amaze is ahead in this competition it's new, stylish, elegant, has loads of space, a great mileage and it is also very economically priced vehicle. But Etios and Dzire is also not a bad option at all whereas Tata Manza and Verito are least popular among all and reliability of engines comes into mind when you buy Tata and Mahindra's products.