Nissan unveiled the 2018 Leaf facelift back in September 6, 2017, and now the all new Nissan electric car will be introduced in India soon. The Leaf's driving range makes it an affordable EV and good for everyday use. Here's why this new electric car is different from its last generation version:
Engine Details
The car has 40 kWh batteries and this can take the Nissan Leaf up to 400 km on a single charge, with a power output of 148 bhp and a torque of 320 Nm. The charging time for the batteries is 8 hours to 16 hours depending on the power capacity. The leaf also possesses quick charging feature which can give 80 percent battery charge in 40 minutes. The Nissan Leaf also has some futuristic technology like that of a ProPilot autonomous driving feature. It gets a single-lane self-driving feature in which you can get a speed preset by the driver between 30kmph and 100kmph.
Exterior and Interior
The Nissan Leaf boasts an improved aerodynamic design that brings improvement in the driving dynamics of the car. This allows the popular electric vehicle to cover more distance on a single charge. The improved aeroplane wings also help with a more symmetric airflow that makes it efficient with its drive quality. In looks, the overall design of the Nissan Leaf is more aggressive and is made inspired by the new-gen Nissan Micra.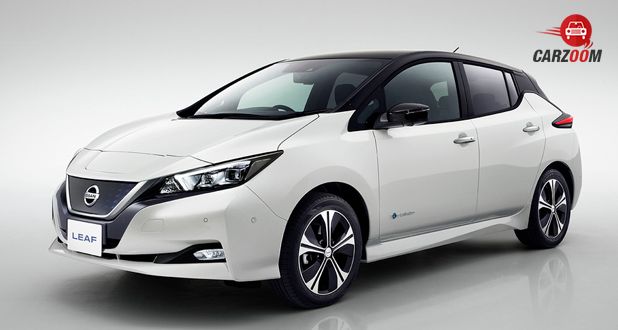 Price
The expected price tag the Nissan Leaf Electric car would carry can be between 35-40 Lakh INR.
Safety
As it has a ProPilot autonomous driving feature, it also has a ProPilot Park feature that gives 12 ultrasonic sensors and four high-resolution cameras around the car, it has the charge of acceleration, braking, handling, shift-changing and parking brakes to direct the car into a parking spot.
Launch Date
The launch dates have not been finalized but it is said to make its India foray in late 2018 or in starting 2019.