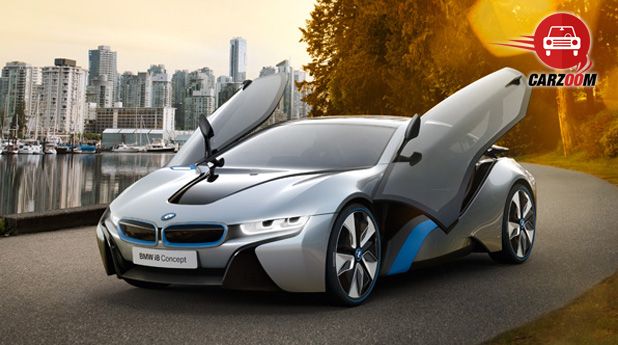 The German luxury car manufacturer BMW which recently launched all-new M6 Gran Coupe at the whooping price tag of 1.75 crore is now reportedly in the process to increase its network on a high level in India. Company is planning a new strategy in which its focus now will be on top-scale luxury models for a while.
In this queue, the model which is on top list in new launching is BMW i8 hybrid which recently has driven the people crazy when showcased in India at the very first time in recently held 12th Auto Expo. The i8 hybrid is expected to be launched by the company by the end of this year, though the final date is yet to be confirmed. This luxury model will enter into Indian market by CBU (completely built unit) route in India.
As per the company, this step is being taken after considering the low market condition of Indian automobile industry.
BMW Group India President Philipp von Sahr stated, "We are also concentrating really on the high-end cars…It is important in difficult economic situation to focus on such cars and invest on the marketing of such cars because there you can get some money and for that we are here. It doesn't make sense if you are number one in sales and then have no money to invest. That doesn't help."
He further said on talking about company's India plans, "We were focusing for the past few years on volume growth and now we have a certain size and now we are looking to be really profitable in this emerging market which has some economic problems but here we have to focus on our own strength."
The BMW is known for its luxury models with high-class on-road performance but if we consider the sales graph of last 1-2 years then it can be clearly seen that BMW somehow facing an actual rub-shoulder fight with its main rivals like Audi and Mercedes-Benz etc. This is also a reason why company finally has focused on profitable sustainable growth.
The deflation of Indian rupee against Dollar is affecting the company too coz automotive parts of BMW are imported from the other countries to India. Mr. Sahr, BMW Group India President believes that the situation of Indian automobile industry has chances to be improved after the upcoming elections which are going to be held soon in first half of this year. That's why company is planning to launch its high-end models in the second half of 2014.