The Tata Racemo has piqued the most interest at the 2018 Auto Expo. It is the first time that the Racemo has been displayed in India. It is the most searched for car and is trending all over social media. Here is why everybody is excited over the unveiling of the electric version of the car:
Engine Details of the Racemo EV
The all-electric version known as 'Racemo +-' comes powered by a 150kW electric motor that gets its charge from a lithium-ion battery pack. The car also gets fast charging for the battery pack but not much is known about it for now.
The regular Racemo version was showcased with the same mid-mounted power-train having a 190hp, twin-turbo version of Tata's three-cylinder with a 1.2-litre petrol engine. The car runs on a six-speed AMT gearbox which can be operated via paddles at the steering wheel.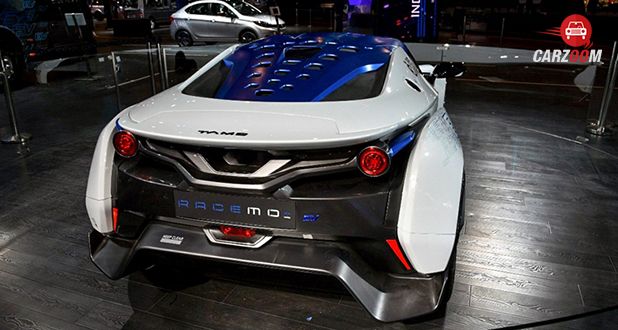 Exterior and Interior of the Racemo EV
The Racemo comes built on a patented multi-material structure known as MOFlex. This structure consists of two composite skins with foam filling injected to form a stiff and light panel. The best part of this method is that it gives great freedom in design of the car. The Racemo's design is an interplay of multiple surfaces and its beautiful shapes are aimed to make heads turn. The front grille of the sports car is a hint of the Tata family look, while it also has a complex looking rear with sculpted flying buttresses that seems to be inspired by the BMW i8.
The cabin gets three high-resolution screens creating a virtual environment within. The Racemo boasts plenty of connected techs like advanced navigation, predictive maintenance, remote monitoring and over-the-air updates using Microsoft cloud-based technologies.
It would be interesting to see how the company takes forward the car after this debut.