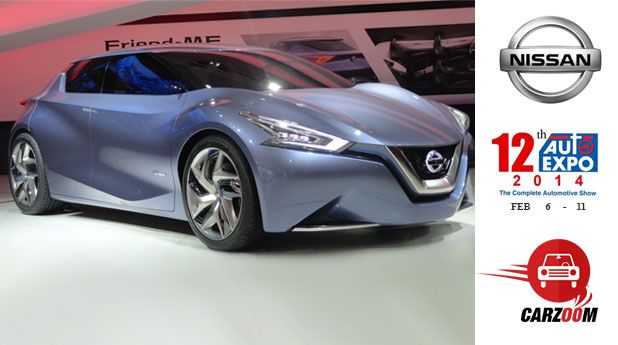 Nissan's this model is a stunning one which indicates the future hatchback + sedan concepts. It is running worldwide and now has made its debut at recently held 12th Auto Expo 2014.
Concept cars always bring excitement among its lovers and that's why when we listened that Nissan is also unveiling a hybrid car namely Friend-ME to India, we couldn't hide our eagerness for this. This amazing concept model by one of the luxury brand Nissan probably will launch later in country but no news regarding its launch has been stated by the company yet. It is definitely one of those few cars who are willing to steal the any show with its beauty. Though, the price range is not revealed by the company yet.
Engine details:
This sporty and dashing model's engine is expected to be based on Nissan Pure-Drive hybrid platform including a 2.0 liter 4-cylinder petrol engine and a latest generation lithium-ion batteries to provide a flawless driving pleasure on road.
Interior & Exterior:
Nissan this Friend-ME concept has been designed very carefully by giving it a sharp n soothing look with the Nissan's bold vision by combining sporty and dynamic design features with a cabin that showcases Nissan's latest vision of in-car technology and entertainment.
Its V-motion grille, boomerang shaped LED headlamps, slim n down-to-earth bonnet, stylish 20" wheels etc make this royal car an actual form of future models.
Car Zoom's take:
Nissan is definitely working hard to increase its network in India and also to maintain a stable position and reputation. Though, launch of this concept car's in India is not confirmed yet but whenever it will be, it will definitely prove as a hit-mark for this Japanese brand.