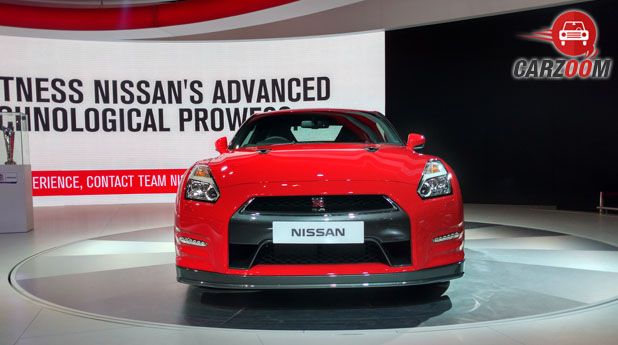 In international markets, Nissan's GT-R has become one of the more popular performance cars of all time. At Indian auto expo, Nissan showcased the supercar and it will be launched in India by June 2016 to take on Porsche 911 Turbo. The GT-R made its initial debut in 2001 and launched for the first time in Japan in 2007 while the all wheel drive system was introduced in 2009.
After much delay, it seems that Nissan has listened to the wishes of enthusiasts in India. The Car is popularly known as Godzilla and in the latest avatar it draws the power from a 3.8 litre twin turbocharged V6 motor tuned to develop max output of [email protected] and 632Nm of peak torque between 3200-5800rpm. It is linked to a 6-speed dual clutch automatic transmission and power is sent to all wheels via intelligent AWD system.
Nissan GT-R is all about performance and its design doesn't justify the supercar tag. The front fascia is pretty simple but its fighter jet stance makes up for the average design and circular rear tail lights further adds the spice to the overall design. It gets HID headlights with LED daytime running lights; auto folded dual heated ORVMs, five spoke alloy wheels, aluminium door handles and four ring LED tail lights.
Going by its legacy, the supercar will come with 2+2 seat configuration, a large screen display all the useful information and functions of the car, premium leather upholstery for seats with heating function, cylinder deactivation technology, start/stop button and much more. The beast Nissan GT-R is expected to come with the price tag of Rs. 1.5-2 crore (ex-showroom).